The Wisconsin Early Autism Project (WEAP), a regional provider and part of LEARN Behavioral, a national organization serving children with autism and other special needs, has recently relocated from 2125 Heights Drive, Suite 2F in Eau Claire, WI to 1413 Winchester Way, Suite 1, Altoona, WI 54720.
WEAP's new Altoona center serves children and families in the Eau Claire area and surrounding counties and is led by Cassie Sedlacek, LCSW, Clinical Director. The new location has a larger footprint and can better accommodate a growing client base and additional staff.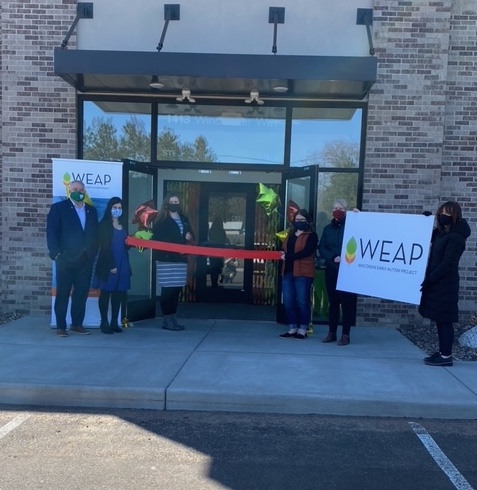 WEAP is currently enrolling preschool-aged clients and expanding their behavioral team. They are hiring more than a dozen behavior technicians at the new location.
"Our new center's clinical space is larger than our previous space, which enables us to offer center-based treatment for the first time officially, whereas previously, we had clients occasionally in our clinic," explained Sedlacek. "Our new space offers a single-floor design that allows for safe and accessible treatment for our clients. A safe outdoor play area, which was not available at our former location, is in our future plans."
WEAP's talented team of clinicians provide individualized, evidence-based programs in the client's home, at their learning centers, and in the community and/or school. Their applied behavior analysis (ABA) therapy services include diagnostic services, home services, special skills group, and teleABA (telehealth) services.
An outdoor grand opening and ribbon cutting ceremony with WEAP leaders and the Eau Claire Chamber of Commerce at the new Altoona location was held Thursday, April, 1, 2021.
With locations in Altoona, Brookfield, Green Bay, Madison, Milwaukee, and Oak Creek, WEAP is one of LEARN Behavioral's growing, nationwide organization of local providers, now spanning across 15 states and the District of Columbia. For more information about WEAP, visit www.wiautism.com
About LEARN Behavioral
LEARN Behavioral specializes in using contemporary applied behavior analysis (ABA) to nurture the unique potential of children and young adults with autism. With clinical insights and best practices refined through our decades of service to the autism community, we support more than 5,000 clients through brands that include WEAP, AST, BACA, BCI, Total Spectrum, Trellis, and SPARKS. Our team consists of more than 30 doctoral-level clinicians, 450 Board Certified Behavior Analysts®, and 4,000 behavior technicians who share a common mission: to find success for every child in our care.
"Connecting the Autism Community One Podcast at a Time"
LEARN Behavioral provides valuable insight and information from inspiring individuals in the autism community through their unique All Autism Talk podcast found on Spotify and on their website at www.learnbehavioral.com/allautismtalk