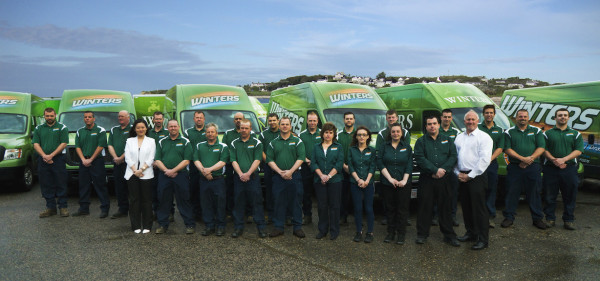 Winters Home Services, an award-winning provider of plumbing, heating, cooling, and innovative CarePlus Home Monitoring services, is sponsoring the Harbor to the Bay charity bike ride from Boston Harbor to Provincetown Bay on September 20, 2014.
The 126 mile, one day Harbor to the Bay AIDS bike ride is a grass roots ride where 100 percent of rider-received pledges go directly to support the fight against HIV.
"Partnering with the ride is important to the entire team at Winters Home Services, " said Tim Flynn, owner of Winters Home Services, "Through our support and actions, we want to help positively impact people living with HIV/AIDS."
Winters Home Services has an ongoing partnership with Boston's Club Café and is sponsoring the ride with a $1000 donation. Partnering with the ride is important to the entire Winters team, as they believe in the organization's focus to promote awareness in our communities to help prevent HIV infection and to care for those already impacted by HIV/AIDS. Together with those organizations and individuals that advance the quality and accessibility of HIV and AIDS care, Winters home services strives to make a difference in the fight and helps those living with HIV to live long healthy lives.
Flynn continued, "The Harbor to the Bay charity bike ride raises essential funding for HIV/AIDS prevention, research, support and care. It's run by many hardworking volunteers and we're pleased to help support this important cause."
Harbor to the Bay, Inc. is a 501(c)3 not-for-profit organization run by volunteers. To learn more about the ride, fundraising and beneficiaries, visit www.harbortothebay.org.
About Winters Home Services
Founded in 1994, Winters Home Services is an award-winning service company based in Cambridge, Massachusetts, specializing in plumbing, heating, cooling, drain cleaning and air quality services. Offering the first-to-market CarePlus Home Monitoring Program and lifetime guarantees on many of their services, the company focuses on high quality workmanship and consistent world-class customer service. Winters Home Services promises to fulfill the needs of every customer with a sense of urgency, ensuring comfort, safety and well-being.
Winters Home Services is one of the largest residential plumbing companies in the greater Boston-area with a large fleet on the road and a full staff of licensed and insured plumbers and technicians.
Dedicated to supporting the community, Winters is a sponsor of the Duckling Day Parade annual Mother's Day event and a partner of the Friends of the Public Garden, a non-profit organization that works to protect and improve Boston's first public parks: the Boston Common, Public Garden, and Commonwealth Avenue Mall. The company sponsors the Harbor to the Bay charity bike ride for AIDS and is an ongoing supporter of events at Club Café.
For more information, visit wintershomeservices.com.