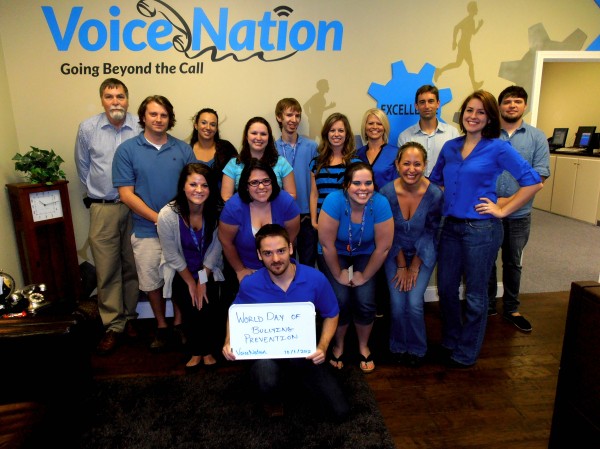 On October 1st, which kicked off National Bullying Prevention Awareness Month, the staff of VoiceNation, the industry leader in live answering and virtual receptionist services, donned blue shirts in support of STOMP Out Bullying (the signature program of Love Our Children USA™) and its initiative Blue Shirt Day™ World Day of Bullying Prevention.
VoiceNation is helping Love Our Children USA™, a national non-profit organization working to prevent and fight all forms of violence and neglect against children, spread the word and campaign to STOMP Out Bullying™.
According to Love Our Children USA™, "One out of four kids are bullied and depending on the age group, up to 40 percent of students say they have been digitally harassed. Nine out of 10 LGBT students experienced harassment at school and online and eight percent of students miss at least one day of class per month for fear of bullies."
"We wore blue as a sign of solidarity in an effort to make October 1st the day that bullying prevention is heard around the world. We encouraged like-minded individuals and businesses to support the cause and learn what can be done to help," noted Jay Reeder, VoiceNation founder.
About Love Our Children USA™
Love Our Children USA's™ , Stomp Out Bullying™, No Matter™ and Blue Shirt Day™ World Day of Bullying Prevention are focused on reducing and preventing all forms of bullying, educating students and the general public, decreasing school absenteeism and deterring violence in the community, online and in schools. For more information about Love Our Children USA anti-bullying campaigns, visit http://www.stompoutbullying.org/index_OCT1_2012.php.
About VoiceNation
VoiceNation is America's telecommunications leader for virtual PBX, voicemail and innovative Next Generation call centers. Named a "Top Provider in Industry" by PC World, VoiceNation provides live answering service and call center solutions utilizing the latest in proprietary technology to deliver high quality call answering services at the lowest cost to their customers. In this way, VoiceNation enables business of all sizes to compete in the marketplace with 24-hour availability that adapts to any situation.
Founded in 2002, VoiceNation is a privately-held company that serves more than 40,000 customers including FEMA, Blue Cross/Blue Shield, Dell, AIG and the U.S. Coast Guard. The company also provides qualified non-profit, tax-exempt charities with access to voicemail, faxmail and other specialized communication services at reduced cost through their Care2Call outreach program.
To learn more about VoiceNation, visit http://www.qualityansweringservice.com.