HINGHAM AND NORWELL, MA…Scores of individuals, families, business neighbors and supporters of Type One, Inc. were in attendance at the grand opening and ribbon cutting ceremony at Type One Fitness at 386 Washington Street, Route 53, Norwell on Saturday, December 3, 2022.
Type One Fitness is a 8,000+ square foot boutique fitness center with a unique focus on diabetes wellness that is open to everyone.
During the ribbon cutting ceremony, Senator Patrick O'Connor read a proclamation and presented an Official Citation from the Massachusetts Senate recognizing Type One Fitness and extending congratulations to Type One Fitness founders Paul Foti and Tyson Sunnerberg.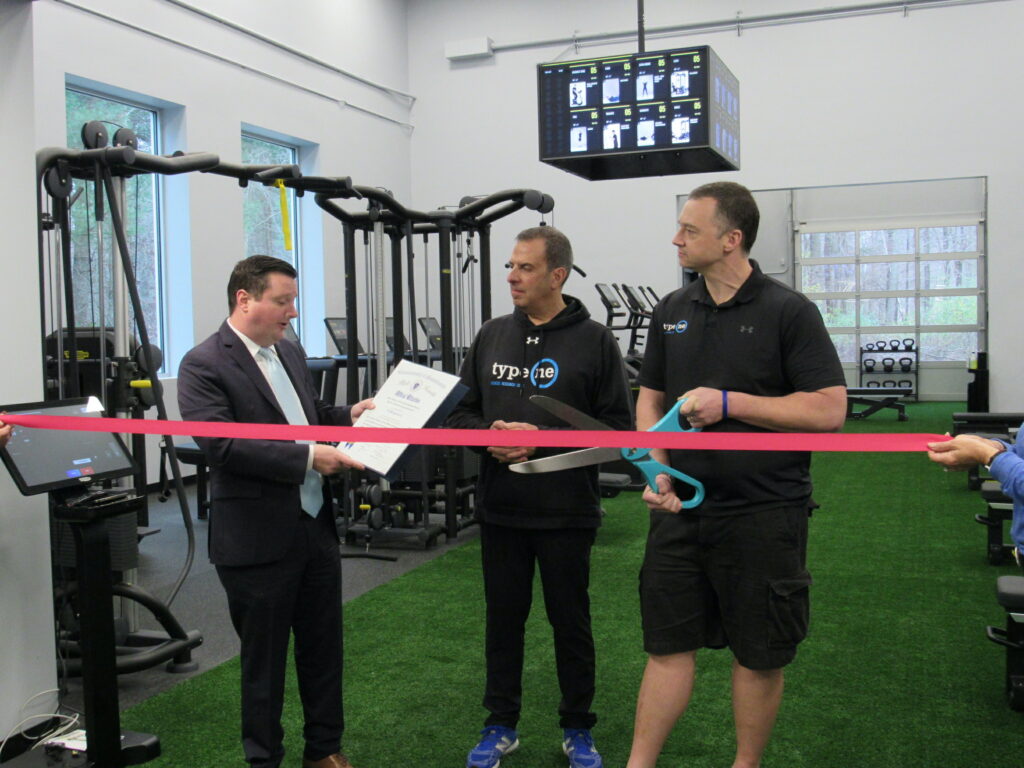 Following the ribbon cutting, attendees had an opportunity to tour the facility and meet the leadership team, fitness and nutrition instructors and personal trainers. Light refreshments were offered along with fresh juices provided by Type One Fitness' business neighbor Press Juice Bar. Louie Bello brought the entertainment with a live musical performance.
"We had a great turnout at our grand opening and we look forward to working with families and individuals from all around the South Shore who are looking for life-changing results in health and fitness," said Sunnerberg. "We're getting ready to kick-off a number of exciting programs after the holidays as people begin to focus on achieving their New Year's resolutions."
Type One Fitness is equipped with the latest technology, media, cardiovascular equipment, ellipticals, bikes, rowers, treadmills, strength training, free weights and functional and flexibility machines, The center works toward ensuring that they provide clients and members with a daily program of exercise and a healthy approach that perfectly suits their lifestyles and needs.
Fitness, Nutrition, Workshops & Support
Type One Fitness offers experienced and credentialed fitness trainers, nutritionists, state of the art equipment and studios, comprehensive workshops and support for those living with diabetes. Essentially, all-around well-being is enhanced through unique features, services, and amenities that include: personal training; group exercise; Technogym Teambeats™; Les Mills™ programming; strength and conditioning; sports performance; nutrition coaching; and diabetes workshops for individuals living with type 1 diabetes, as well as their parents, siblings, friends and caregivers.
The "Why" of Type One Fitness
Type One Fitness is a boutique fitness center with a unique focus on diabetes wellness that is open to everyone. Type One Fitness provides a place where the type 1 diabetes community can find support for the autoimmune disease and end the stigma of what type 1 diabetes is and who it affects through education and awareness programming. Type One Fitness provides a fully integrated health program for type 1 diabetes patients and the general public. The center offers a place for real time conversation and education for those living with type 1 diabetes. A place that improves the lives of others in the community by offering support not only for individuals with diabetes, but also for parents and caregivers, partners, siblings and friends as well. Outside of a medical facility, there is currently no facility that welcomes and merges a comprehensive type 1 diabetes connection with the general public. Type One Fitness does just that while enabling those affected by the disease to obtain any non-medical support that they need.
Type One Fitness is the brainchild of Type One, Inc. founders Paul Foti and Tyson Sunnerberg. Sunnerberg was diagnosed with type 1 diabetes when he was 21 years old and knows firsthand that the right resources and support make all the difference in the world when it comes to managing this disease. Five years ago, at the age of five, Sunnerberg's daughter Elyse was also diagnosed with type 1, which intensified his drive toward a cure, and provided a firsthand understanding of the constant challenges the entire family faces when living with an individual with type 1 diabetes.
Offering fitness, nutrition and support, the center is open Monday – Thursday 5:30 – 11 AM and 2 – 7 PM, Friday 5:30 – 11 AM and 2 – 5 PM, and Saturday – Sunday 8 AM – 12 PM.
To learn more about Type One Fitness and all that the athletic center offers, visit the website at https://typeonefitness.org
Type One Fitness is part of Type One, Inc., a 501(c)(3) nonprofit organization that recognizes a world free of type 1 diabetes and is dedicated to that future by raising public awareness and funds toward a cure through research. For more information about Type One, Inc. which is headquartered in Hingham, MA, visit https://typeonerenegaderun.com.