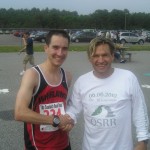 PLYMOUTH, MA…
The very premise of a race is that there are winners and then the rest of the field. With the first ever Old Sandwich Road Race, which took place Sunday, June 6, everybody won. Okay, that's perhaps a glass-is-half-full look, but it's difficult to argue with the success of the first-year race, part of which took place on America's oldest road—Old Sandwich Road in Plymouth.
Chris Mahoney of Haverhill, a former Plymouth resident and 1996 graduate of Plymouth South High School won the Men's Half Marathon with a time of 1:16:53. Kim Mendell of Concord, Massachusetts won the Women's Half Marathon with a time of 1:32:50—both won $200 for their victory. The winners for the Entergy Pilgrim10K were Wesley Gardner of South Boston for the men (39:35) and Heather Barna of Somerville (46:27), with each winning $100.
Today, Race Director Craig Brenner announced the top three finishers in each race and the first finisher in each age group will be invited back to show their stuff in the 2011 race and receive a complimentary bib number.
Here are the top three finishers for each race, men's and women's:
Men's Half Marathon:
Chris Mahoney, age 32, Haverhill, MA, 1:16:53
Stephen Infascelli, age 31, Plymouth, MA,  1:24:22
Bob Ruel, age 57, Whitman, MA 1:25:27
 Women's Half Marathon:
Kim Mendell, age 33, Concord, MA, 1:32:50
Shannon Knight, age 37, Boston, MA,  1:36:16
Adrienne Bolger, age 23, Cambridge, MA, 1:39:19
 Men's 10k:
Wesley Gardner, age 25, South Boston, MA, 39:35
George Marr, age 35, East Greenwich, RI,  41:15
Michael Paul, age 50, Plymouth, MA   44:40
 Women's 10k
Heather Barna, age 39, Somerville, MA, 46:27
Margaret Hallowell, age 45, Boston, MA, 46:39 
Erin Porter, age 31, Duxbury, MA, 47:29 
"Congratulations to our winners and everybody who competed in the first Old Sandwich Road Race, including all the children who ran in the Kids Classic," said Craig Valentine Brenner, race director for the Old Sandwich Road Race. "It may sound cliché, but there were far more victories and winners in this race than the runners who crossed the line first. For a first-year race to come together the way this did, everybody is a winner."
Some of the significant highlights of the first Old Sandwich Road Race include:
550 registered participants in both races; 14 in the Kids Classic.
Demographics of runners – in addition to runners from the South Shore and greater Boston area, the Old Sandwich Road Race included runners from Colorado, Connecticut, Georgia, Maine, New Hampshire, New York, Rhode Island  and Western Massachusetts, Germany, Netherlands and the United Kingdom.
Strong representation from local sponsors–Entergy, Bayside Runner, the Village Racquet & Fitness Club at the Pinehills, Governor Bradford Inn and Radius Health Partners.
"Based on what we learned this year, I think we set the stage for next year's race, taking one step further towards the Old Sandwich Road Race being a destination race for seasoned runners looking for a challenging course and a fun place to spend a weekend and visit local attractions, hotels, restaurants and other businesses," said Brenner.
One hundred percent of the profits from the Old Sandwich Road Race will go to The Home for Little Wanderers' Baird Center School in Plymouth. The Baird Center School is a year-round residential and day school treatment program for youth aged 10-18 with a wide range of emotional, behavioral, educational and psychiatric issues. Adding yet another historical element to the Old Sandwich Road Race, The Home for Little Wanderers is the nation's oldest non-profit child and family service agency, with roots dating back to 1799.
Originally a trail used by the Wampanoag Native American tribe, Old Sandwich Road later became the nation's first true public road and a stagecoach route to ferry passengers and mail back and forth between the Massachusetts towns of Plymouth and Sandwich. Today, the road remains pretty much as the Pilgrims left it–a wide, scenic, dirt road bordered by beautiful tall pine trees and towering oaks.
You can visit the Old Sandwich Road Race Web site at http://www.oldsandwichroadrace.com. The Old Sandwich Road Race also has pages on Facebook and Twitter. If you or your company is interested in sponsoring next year's race, please contact Craig Valentine Brenner at 617-680-4230 or info@oldsandwichroadrace.com.