Does your high school student interview well? When it comes to college admissions, the interview process can be a bit daunting.
With the mission to help each student who wants to succeed in college and beyond to find the college or university that is the best fit for them, Attorney Honoria DaSilva-Kilgore of Personal College Counseling, Inc. (PCCI) based in Raynham, MA, shares college interview tips with students and families:
• Make sure you are thoroughly familiar with what is available at a school. Interested in political science? Internships? Potential students should let the Admissions Counselor know their intention and ask pertinent questions.
• Dress appropriately. For example, do not wear ripped jeans even if that is the style. Be neat and presentable, wear actual shoes (not sneakers, slides or flip-flops). The key is to be comfortable but don't look like you are heading to the gym or a party with your friends.
• Make eye contact. Do not touch your phone during an interview. Don't even bring a phone into the office if you can avoid it, as you want to ensure there is no pinging, ringing, or other distractions.
• Show genuine enthusiasm. You should be happy about having the opportunity to speak to admissions to flesh out any concerns or unanswered questions you may have about their school. The Admissions Counselor wants to know that you are actually interested in their school and will be happy to tell you more about it. Although you may be nervous, try to relax. Just think of the interview as meeting with someone about something you are mutually interested in.
• The point is to have a meaningful discussion with the Admissions Counselor. Be prepared to talk about your outside interests. Have you read a good book (for fun)? Talk about it if the opportunity arises. They want to hear you speak, learn about your interests and have a real conversation.
As an Independent Educational Consultant (IEC), Attorney DaSilva-Kilgore explained, "Acing the college admissions interview is important. Ideally, an Admissions Counselor will remember the student after the interview which works in their favor, particularly when the competition is tough."
Reach, match, safety
Students shouldn't limit themselves to the "reach, match, safety" conventional wisdom about where to apply. PCCI targets schools where the student fits the range of what that university expects from their incoming freshmen on all or most metrics and the school has all the academics and outside interests that are important to the student. The fit has to work on both sides. That's what puts a school on the list for further research, then we target that school for visits and interviews and eventually application.
She continued, "Beyond getting into a school; students (and families) also have to focus on how to pay for it. If the student gets accepted but cannot afford it, then that was a waste of time. They need to know well before that step if they are likely to get enough merit and/or financial aid to make that choice realistic. It's all about choosing the right schools and finding the right fit. That's another key area where PCCI assists."

Attorney DaSilva-Kilgore helps focus effort on colleges that academically, socially and financially are most appropriate, which puts the student in the best position to succeed in college and beyond.
PCCI was established to help students and their parents/guardians pick the best school that puts them on the path to success. Essentially, PCCI helps determine which colleges and universities address the student's academic and social needs; inspires them to achieve inside and outside of the classroom; provides them with tools for success, and is a good return on investment. PCCI offers an affordable, flat-fee based college search and application services to find the best college fit for a student.
PCCI's services are available to students in all 50 states via video conferencing or via telephone.
Virtual services as well as in-person, socially distanced services are available. For more information about PCCI or to arrange for a complimentary Parent/Student Personal College Consultation, visit the website at https://www.personalcollegecounseling.com or email nod@personalcollegecounseling.com.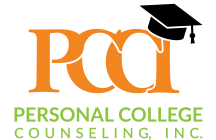 About PCCI
Founded by Honoria DaSilva-Kilgore, Esq. who has been practicing law for more than 25 years, Personal College Counseling, Inc. (PCCI) provides high school students (and parents/guardians) with one-on-one guidance throughout the entire college preparation process. PCCI's college planning includes research and recommendations that are specifically targeted and provide the best fit to the student's abilities, interests, finances, and family circumstances. PCCI takes into consideration university and campus life; programs, internships and study abroad; athletics (Division I, II, and III) and clubs and intramurals. PCCI manages all important deadlines for testing, applications and forms, and assists with merit-based scholarships and financial aid. PCCI's services are available to students in all 50 states via video conferencing or via telephone.
PCCI is based in Raynham, MA. For more information or to arrange for a complimentary Parent/Student Personal College Consultation, contact (508) 622-5250, email nod@personalcollegecounseling.com or visit the website at https://www.personalcollegecounseling.com