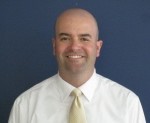 BRIDGEWATER, MASS…
 The Bridgewater, Mass.-based The Bridge Center, a non-profit (501)(c)( 3) recreation center that serves children with developmental, physical and emotional disabilities, recently named Robert Rhuda as its Director of Development and Communication.
 In this role, Rhuda is responsible for bridging the gap between the cost of offering The Bridge Center's programs and services and the nominal fees they charge to families.  He is also charged with raising the organization's profile in the philanthropic community to secure the long-term funding required for long-term sustainable growth.    
"We're pleased to have someone of Rob's skill and experience in this newly created position," said Jennifer, Harber, executive director of The Bridge Center. "Fundraising is the lifeline of our business and with Rob's extensive experience as a grant writer, special events organizer and outreach coordinator, it gives us a proven commodity in raising monies and generating interest in The Bridge Center."
Rhuda has worked with non-profit organizations that support adults with disabilities and inner-city youth, both in raising funds and awareness. Prior to his work in development, Rob was employed as an MIS project manager in the financial services industry. Rhuda holds an undergraduate degree from UMASS Boston with a major in Economics and earned an MBA from Boston College with a concentration in Finance and MIS.
"These are very exciting times at The Bridge Center and it's an honor to be a part of this team.  We so fortunate to have a group of professionals dedicated to improving the lives of children with disabilities," said Rhuda. 
A resident of East Bridgewater, Rhuda enjoys golf and hiking the White Mountains in his spare time.
About The Bridge Center
The Bridge Center's beautiful 20-acre campus is located in Bridgewater, MA and provides accessible play and skill-building activities for all children regardless of the nature or severity of their disability. Year-round activities include nine weeks of summer camp, therapeutic horseback riding, school vacation camps, holiday parties, Saturday programs, teen programs, vocational training, after-school activities and family support groups. 
The Bridge Center also offers carefully designed summer programs and social skills groups designed to meet the social and behavioral needs of children with Asperger's Syndrome, High Functioning Autism and related disabilities.
If you'd like to learn more about The Bridge Center's programs or are interested in becoming a supporter, please visit their website at www.TheBridge Ctr.org, call (508) 697-7557 or send an e-mail to info@TheBridgeCtr.org.