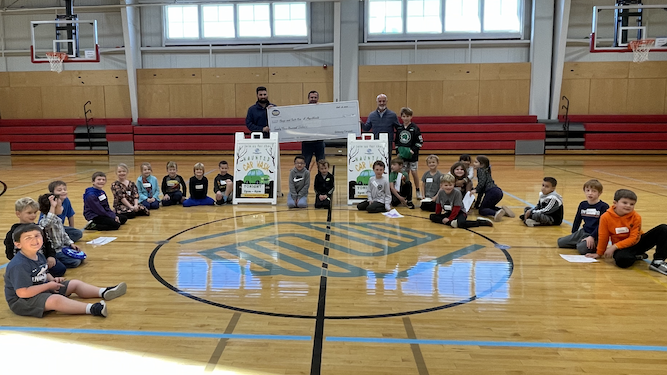 MARSHFIELD AND NORWELL, MA … On two evenings just prior to Halloween, a total of 460 cars drove through Briteway's Haunted Car Wash in Marshfield to raise funds for the Boys & Girls Club of Marshfield.
At the elaborately decorated graveyard-themed car wash, complete with zombies and other costumed characters approaching the vehicles, a "haunted" car wash was $25 per car. The spooky event raised $11,500 in proceeds, which were then matched by Briteway for a total donation of $23,000 to the Boys & Girls Club of Marshfield in support of their scholarship program which helps families in need.
"Thank you to the Vercollone family and Briteway for their generous donation and for creating this frightfully fun event for South Shore families," said Jim Bunnell, CEO of the Boys & Girls Club of Marshfield. "We'd also like to thank all the volunteers, staff, board members and actors who did a tremendous job portraying ghosts, zombies and other creatures and providing patrons with a memorable experience."
The event, which was held October 27-28, was sponsored by Tiny & Sons Glass.
About Briteway Carwash
The South Shore's favorite car wash, Briteway Carwash has two state-of-the-art locations in Marshfield and Norwell. Dedicated to keeping vehicles sparkling clean in all seasons, the award-winning car wash offers express car wash tunnels which are open from 7 a.m. to 7 p.m. every day at both locations. Full-service detailing through Bottoms Up Detailing is offered at the Norwell location. Briteway Carwash, owned by the Vercollone family for more than 50 years, now has third generation Nick and Chris Vercollone at the helm. For more information, visit https://www.britewaycarwash.com
About the Boys & Girls Club of Marshfield
The Boys & Girls Club of Marshfield's mission is to enable and inspire all young people to realize their full potential as productive, caring, responsible citizens as well as become tomorrow's capable leaders. The Club provides programming opportunities in the Boys & Girls Club of America's (BGCA) five core areas including leadership, education, health, arts, and fitness. The Club serves families with children ranging in age from 5 to 18 years old, and provides critical services the community needs to support children and families over the short- and long-term. For more information, visit their website www.bgcmarshfield.org or call 781-834-2582.

Briteway Haunted Car Wash Raises Thousands for Boys & Girls Club of MarshfieldRead More