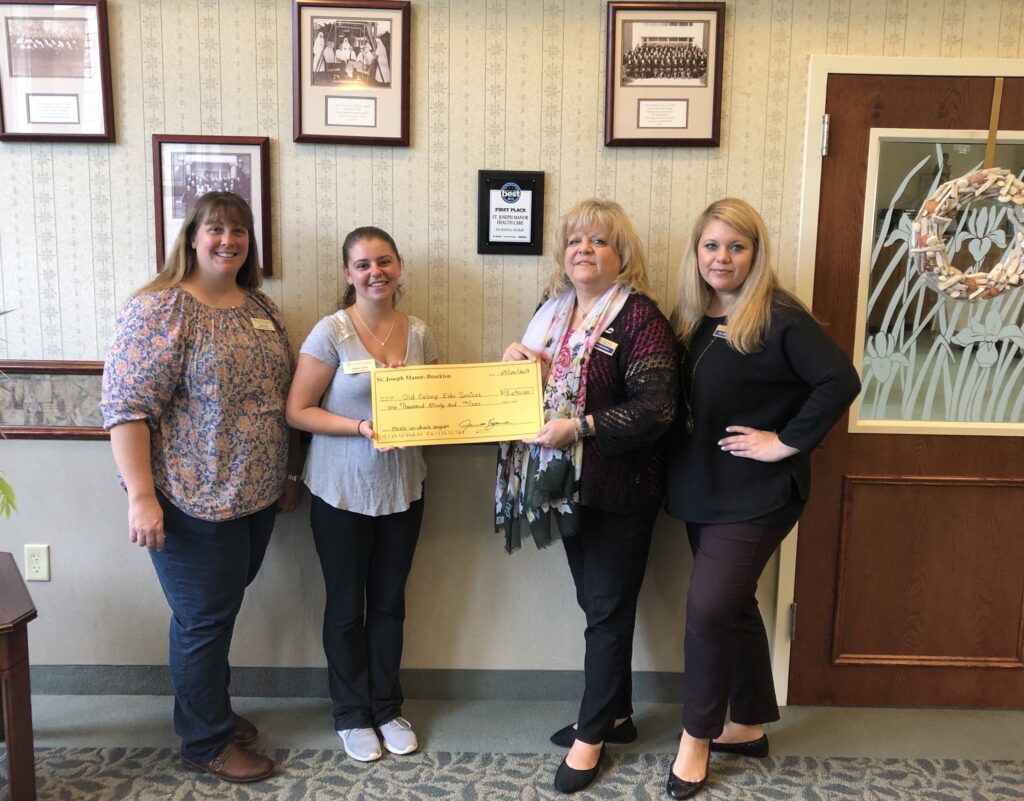 Old Colony Elder Services, the non-profit agency proudly serving older adults and individuals with disabilities throughout greater Plymouth County, recently received a generous donation to their Meals on Wheels program from St. Joseph Manor Health Care in Brockton.
St. Joseph Manor held a Summer Carnival, complete with carnival games, food and children's activities such as Touch a Truck. Special guest Paws, the official mascot of the Pawtucket Red Sox, was also onsite. A total of $1,090 in proceeds from the Summer Carnival was donated to OCES' Meals on Wheels program.
Meals on Wheels is part of OCES' Nutrition Program. OCES delivers 1,600 nutritious meals a day to older adults and individuals with disabilities living within 23 communities in greater Plymouth County. These "Meals on Wheels" are planned by a nutritionist, and with the help of hundreds of volunteers, are delivered either to individual homes or to Community Dining Sites, which provide older adults opportunities for social interaction.
"We are grateful to St. Joseph Manor for their generous donation to our Meals on Wheels program, as it supports our ability to enhance the quality of life for thousands of older adults by providing nutritionally sound and satisfying meals," said Nicole M. Long, CEO of OCES.
To learn more about St. Joseph Manor of Brockton, one of the highest rated senior care facilities in Greater Boston and 2019 Best of the Best winner, visit http://sjmbrockton.com

About OCES
Founded in 1974, OCES proudly serves greater Plymouth County and surrounding communities. OCES is a private, non-profit organization headquartered in Brockton with a second office in Plymouth. OCES is designated as one of 26 Aging Services Access Points (ASAPs) in the Commonwealth of Massachusetts. OCES' mission is to support the independence and dignity of elders and people with disabilities by providing essential information and services that promote healthy and safe living. The agency offers a number of programs to serve seniors, individuals with disabilities, their families and caregivers. For more information call 508-584-1561 or visit www.ocesma.org.