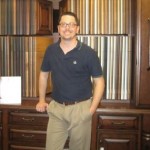 SPRINGFIELD, MISSOURI…
Springfield native Chris Keeton, receiving supervisor at DirectBuy of Springfield, was recently recognized for his 10 years of service at DirectBuy's International Sales & Service Conference, held May 23-26 in Dallas, Texas.
Keeton began his tenure in 1996. After a four-year stint in the Marines, he rejoined DirectBuy and quickly established himself as a jack-of-all-trades and owner Tracye Corbin's "right-hand man."
"Chris is the most versatile, well-rounded employee at the Springfield club," said Brian Gerstenberger, DirectBuy Corporate's Manager of Field Sales. "When a situation needs defusing, he frequently steps in and handles it."
A lifelong Springfield resident, Keeton is active with the local Shriners. He's is also an avid reader and writer, has completed the draft for a children's book, and is currently writing a book on minor league baseball.
"Even though a lot has changed over the course of my career here, the main premise of DirectBuy has not–we still save our members a lot of money," said Keeton. "The only thing that's changed or improved through technology is how we do that."
The leading home improvement and furnishings club with direct insider prices, DirectBuy Club offers manufacturer-direct pricing on products ranging from light fixtures to televisions to kitchen cabinets, all from more than 700 manufacturers or their authorized suppliers. DirectBuy Club also offers design, delivery, and installation services.
DirectBuy of Springfield is conveniently located at 1265 East Lark in Springfield. DirectBuy Club provides a comfortable, country club setting, where consumers finally have the financial control of buying direct.
For more information on a DirectBuy membership, you can visit http://www.directbuycares.com.
About DirectBuy Club
For more than 39 years, DirectBuy Club has been showing thousands of consumers unparalleled ways to save as they shop for virtually everything for in and around their homes – from furnishings, home improvement, and flooring, to entertainment and outdoor products, accessories, and much, much more. With more than 150 locations in North America, DirectBuy Club offers its members access to more than 700 brand-name manufacturers or their authorized suppliers in the U.S. and more than 500 brand-name manufacturers or their authorized suppliers in Canada. Consumers interested in seeing DirectBuy Club's savings, service, and selection up close may obtain a Visitor's Pass to attend an Open House by visiting www.directbuy.com or www.directbuycares.com.