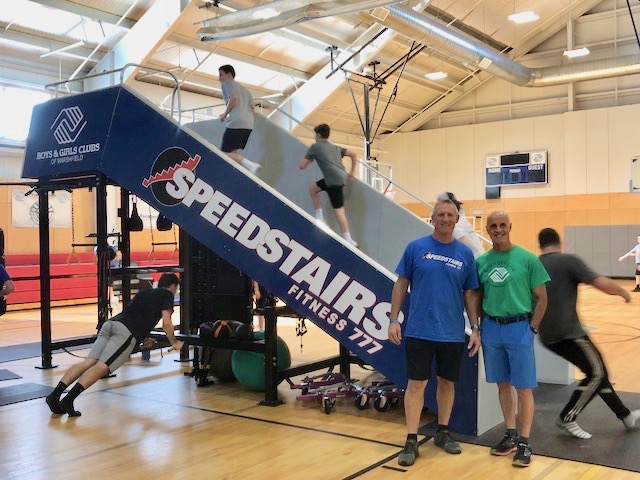 SpeedStairs Fitness of Marshfield has partnered with the Boys & Girls Club of Marshfield to offer innovative fitness programs for the Club's youth as well as adults, families and teams in the community.
SpeedStairs Fitness, an educational based program that improves athletic ability and agility while decreasing the risk of injury, is now part of the physical education program rotation built into the Boys & Girls Club of Marshfield membership.  In addition to youth training, the popular SpeedStairs Fitness program is also being offered to individuals, families, teams and organizations as a fee-based program on-site at the Club.
A unique fitness program that uses patented stair-slide equipment to assess an individual's running mechanics and to increase his/her anaerobic performance, SpeedStairs Fitness professional approach helps participants attain optimal fitness at any age. In addition to the stair-slide itself, multiple exercise stations with options such as chain/regular pull-ups, speed bag, medicine balls, heavy bag, TRX, and resistance bands are underneath. For those who struggle with back, hip, knee, or shoulder pain, physical therapy is incorporated into training sessions.
The program is led by Collis Brown, principal and designer of SpeedStairs Fitness. Brown holds a Bachelor of Science degree in Physical Education K-12 with a concentration in Exercise Science from University of Massachusetts Boston, and also has Deans award from UMass in Exercise Science. Brown has five years of experience as a public school teacher, five years as a varsity team coach, and 16 years as a professional trainer and fitness club owner.
"SpeedStairs is an educational based program that teaches children, teens and adults the science and purpose behind each exercise and stretch," explained Brown. "SpeedStairs is a structured fitness program focused on speed, agility, coordination, and strength that builds self-confidence, self-esteem, and life habits."
"One of the Boys & Girls Club of America top five key elements for Youth development is to adopt a healthy diet, practice healthy lifestyle choices and make a lifelong commitment to fitness," said Jim Bunnell, Executive Director of Boys & Girls Club of Marshfield. "We're very excited to have this incredibly fun fitness program in-house for our after school program members, while also offering set hours and making it available to families, teams and other organizations in the community."
Join SpeedStairs at the Boys and Girls Club of Marshfield for a "SpeedStairs Open House" on Monday, November 12, 2018 from 9 a.m. to 6 p.m. and try a SpeedStairs Workout and enjoy other activities.
To learn more about SpeedStairs Fitness at the Boys & Girls Club of Marshfield and schedule a free trial class, visit http://marshfieldbgc.com/speedstairs
About SpeedStairs
SpeedStairs is revolutionizing exercise one stair at a time. As the only patented stair-slide group training apparatus in the world, SpeedStairs is comprised of stair-slide combination, as well as multiple exercise stations underneath. Program successes include City of Watertown-Department of Health and Wellness, and City of Brockton-Department of Special Education. SpeedStairs caters to all ages and walks of life. Learn more by visiting the website, www.speedstairs777.com
About Boys & Girls Club of Marshfield
The Boys & Girls Club of Marshfield (the Club) is a youth development organization providing programs and services to children and families throughout the greater South Shore community. The Club's mission is to enable and inspire all young people to realize their full potential as productive, caring, responsible citizens as well as become tomorrow's capable leaders. The Club provides programming opportunities in the Boys & Girls Club of America's (BGCA) five core areas including leadership, education, health, arts, and fitness.
Currently, the Club serves hundreds of families with children ranging in age from 6 to 18 years old, providing afterschool, vacation week and summer programs, as well as youth athletics, teen, social recreational and leadership opportunities. For more information, visit their website www.marshfieldbgc.com or call 781-834-2582.