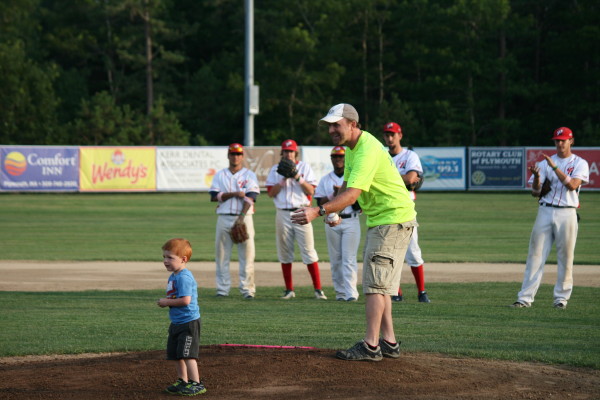 PLYMOUTH, MA…

For Matthew Romboldi, Plymouth resident and owner of Lombard's Waste removal, the fight against cancer became personal when he lost his mother Marcy "Faith" Romboldi to ovarian cancer in 2010. With his annual road race, The Run for Faith 4-miler, he's raised more than $10,000 to fight cancer. So when the Plymouth Pilgrims asked him to throw out the first pitch on Pink Night, a promotion to benefit Jordan Hospital's Breast Center, it was an offer he could not refuse.
"My mother was all about her faith, her family and helping others and that was long before she had cancer," said Romboldi before the game. "If she was still with us, she'd be dressed in sitting in the front row, dressed in pink from head to toe and saying a silent prayer that I would reach the catcher's mitt in the air."
Pink Night occurred on Thursday, July 18 at the Plymouth Pilgrims game versus the Laconia Muskrats. Forges Field was adorned with a pink rubber on the mound and pink bases. Prior to the game, breast cancer survivors walked the bases—all in an effort to raise breast cancer awareness and the work of the Jordan Hospital Breast Center.
The nationally-accredited Jordan Hospital Breast Center represents a concerted effort across medical, radiological and surgical disciplines at Jordan Hospital to provide the highest quality breast health care. Jordan's advanced technology and multidisciplinary approach enables them to streamline the process from the time a patient enters the system and an abnormality is detected. The Jordan Breast Center's goal is to have most diagnoses within five business days.
"The Run for Faith and Jordan Breast Center's Kayla's Beat Goes On 5k are the only road races in Plymouth that raise money to treat and fight cancer," said Romboldi. "By consistently holding fundraisers and awareness events like this, we will hopefully find the cure for all cancers one day."
The third annual Run for Faith 4Miler, which is a gold member in the Bayside Runner Racing Series, will take place on Sunday, August 11 at 8:30 a.m. at historic Plimouth Plantation. The Run for Faith's 4.58-mile race loop includes spectacular views of Cape Cod Bay, the Eel River and scenic horse farms, as well as unmatched history.
The entry fee is $25 – which will once again go to scholarships for Plymouth high school students and cancer research (this year's Run for Faith resulted in two $2,500 scholarships graduating Plymouth North and Plymouth South high school students in addition to the aforementioned $10,000 to Dana Farber's Yawkey Center for Cancer Care).
Water stations are plentiful and the event is professionally timed by Spitler Racing Systems. Prizes will go to top finishers, male and female, and awards will be given to top finishers for various age groups, including the Stroller Division.
The Run for Faith is organized by Run for Faith, Inc., which is 501(c)(3) non-profit organization created to commemorate the special life of Faith "Marcy" Romboldi who gave so much of herself to both individuals and the community.
The Run for Faith's current roster of sponsors includes: Baker's Auto; Marty's Buick GMC Isuzu; The East Bay Grille; Mayflower Food & Spirits; Stevens The Florist; RJF Homes; Cape Auto; G&G Silk Screen Embroidery; B&B Auto Body; Dunlap's Propane; Associated Engineers; Wood's Seafood; Kingston House of Pizza; Almeida Towing Service; Plimouth Plantation; Davis Carpentry; Dunlap's Oil; Richard's Wine & Spirits; Mike Tupper, Welding; and the Lobster Pound. Interested sponsors can contact Matthew Romboldi at 508-400-0751.
To register for the Run for Faith, please visit www.runforfaithplymouth.org. The registration deadline is midnight on August 8. You can view the course online at http://www.mapmyrun.com/routes/view/42074524.