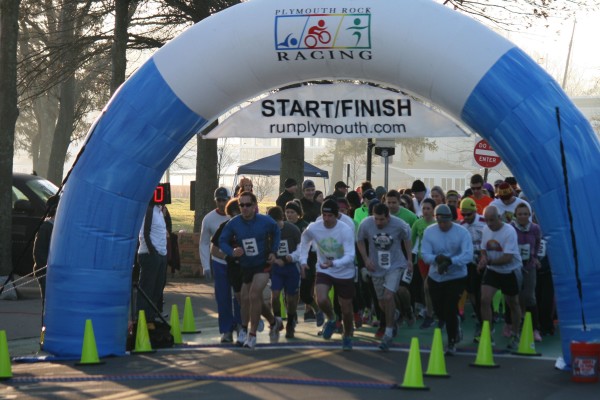 PLYMOUTH, MA…
Turkey, Thanksgiving and the Town of Plymouth are synonymous with the Thanksgiving Day holiday. With each passing year, road races become a larger part of the holiday in America's hometown. Case in point, two Thanksgiving Day races in Plymouth: Plymouth Turkey Trot, a 5- mile run on Thanksgiving morning followed by the Thanksgiving Day Pilgrim 5k Run and Walk.
The second annual Plymouth Turkey Trot starts at Plymouth Rock at 7:45am. The five-mile course offers scenic views of the Plymouth's picturesque oceanfront and passes several historical sites including Plymouth Rock, Burial Hill and The Mayflower. The cost to register is $27. Prizes will be awarded to men's and women's winners in several age groups.
The fourth annual Thanksgiving Day Pilgrim 5k run and walk kicks off from Village Racquet at Pine Hills, 30 Gold Drive, Plymouth at 10:15 a.m. rain or shine, also on Thanksgiving morning. The course includes the oldest road in America, Old Sandwich Road. This race site was the original trail used by Pilgrims and Native Americans in the 1600's as they traveled from Plymouth to Sandwich, Mass. Cost is $25.
All participants will receive a commemorative finishers' medal.  T-Shirts, designed by professional graphic artists, will be given to all participants.
"Does it get any better than earning your Thanksgiving Day turkey dinner by running a road race in the town where the holiday originated?" asked Steve Dubin, spokesperson for the Plymouth Turkey Trot and Thanksgiving Day 5k Run and Walk. "Actually, it does as we are also offering a 'third' race for those who would like a truly guilt-free holiday meal by running in both Plymouth Turkey Trot and the Thanksgiving Day 5K. It's called The Second Helping Challenge."
The 2013 Second Helping Challenge welcomes runners to sign up for both races at a reduced rate of $40. Running both races earns runners a permanent listing on the Second Helping's "Couch of Fame" and on Plymouth Rock Racing's Facebook as well as an exclusive and awesome Second Helping sweatshirt.
The top three combined time winners for both men's and women's divisions will receive a cool prize and trophy. Prizes will also be awarded to top Second Helping participants in the following age groups: 15 and under, 16-19, 20-29, 30-39, 40-49, 50-59 and 60 and over.
For complete race information and registration details on the Plymouth Turkey Trot, Thanksgiving Day 5k and the Second Helping Challenge visit www.runplymouth.com. If you or your company is interested in sponsoring either the Plymouth Turkey Trot or the Thanksgiving Day Turkey 5k Run and Walk, please contact Steve Dubin at 781-582-1061 or sdubin@prworkzone.com.