When it comes to college admissions, the interview process can be a bit daunting. Now imagine the application and admission process for dual degrees in highly competitive fields such as medicine and law.
With the mission to help each student who wants to succeed in college and beyond to find the college or university that is the best fit for them, Attorney Honoria DaSilva-Kilgore of Personal College Counseling, Inc. (PCCI) based in Raynham, MA, can help students navigate a complex and challenging application and admissions process, along with merit and financial aid process especially, if you want to find a joint degree program that's right for you.
"Students who are undertaking dual degree programs must be academically highly qualified as well as super-motivated," explained Attorney DaSilva-Kilgore. "Dual or joint degree programs are accelerated programs offered at a college or university in conjunction with a grad school where a student will graduate from college with a B.A. or B.S. degree but some of their credits automatically count towards their Master's, JD or MBA, thereby reducing the time needed to complete the graduate program and saving them money. More importantly, it can give the college student direct access to law or medical school where the acceptance rates are even more competitive. These programs give students automatic entry or a direct pathway to the grad program at the next institution."

Attorney DaSilva-Kilgore helps focus effort on colleges that academically, socially and financially are most appropriate, which puts the student in the best position to succeed in the accelerated program itself as well as beyond – in their career.
Attorney DaSilva-Kilgore continued, "Some universities offer several joint degrees – law, medicine, engineering to name a few. Typically, these colleges can help their students get to the next level and save the student time and money. When a college has one of these affiliated programs it's indicative that their college is well respected in that field and prepares their students well. They may be smaller than many of the "big name" schools you may be familiar with but in my opinion, these are hidden gems even if you are not in the accelerated program. For example, Drew University, a highly respected liberal arts school in Madison, N.J., has a 77 percent first time acceptance rate for medical school. Compare that to the national average of only 43 percent and you can see what I'm talking about."
Dual degrees help to set the student apart, particularly in highly competitive fields such as medicine. For example, the admission rates for Physician Assistant programs nationwide is only about 31 percent which is even harder to get into than medical school. PCCI helps students navigate the unique application and admission challenges.
PCCI was established to help students and their parents/guardians pick the best school that puts them on the path to success. Essentially, PCCI helps determine which colleges and universities address the student's academic and social needs; inspires them to achieve inside and outside of the classroom; provides them with tools for success, and is a good return on investment. PCCI offers an affordable, flat-fee based college search and application services to find the best college fit for a student.
PCCI's services are available to students in all 50 states via video conferencing or via telephone. Virtual services as well as in-person, socially distanced services are available. For more information about PCCI or to arrange for a complimentary Parent/Student Personal College Consultation, visit the website at https://www.personalcollegecounseling.com or email nod@personalcollegecounseling.com.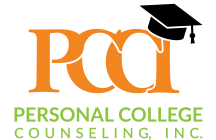 About PCCI
Founded by Honoria DaSilva-Kilgore, Esq. who has been practicing law for more than 29 years, Personal College Counseling, Inc. (PCCI) provides high school students (and parents/guardians) with one-on-one guidance throughout the entire college preparation process. PCCI's college planning includes research and recommendations that are specifically targeted and provide the best fit to the student's abilities, interests, finances, and family circumstances. PCCI takes into consideration university and campus life; programs, internships and study abroad; athletics (Division I, II, and III) and clubs and intramurals. PCCI manages all important deadlines for testing, applications and forms, and assists with merit-based scholarships and financial aid. PCCI's services are available to students in all 50 states via video conferencing or via telephone.
PCCI is based in Raynham, MA. For more information or to arrange for a complimentary Parent/Student Personal College Consultation, contact (508) 622-5250, email nod@personalcollegecounseling.com or visit the website at https://www.personalcollegecounseling.com