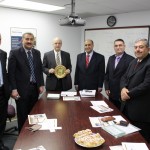 Five delegates from the Iraq Ministry of Higher Education and Scientific Research and the Foundation of Technical Education were recently hosted by Geocomp, a global leader in geo-engineering headquartered in Boxborough, Massachusetts. In additional to touring Geocomp, the delegation visited regional universities and vocational schools.
Rachid Hankour, Vice President and Director of Lab Systems at Geocomp served as the primary host. An Algerian native, Hankour speaks Arabic, though he discovered all the Iraqi representatives were fluent in English.
The excursion was sponsored by UN-HABITAT, the United Nations Human Settlements Program. The purpose of the exchange program is to promote social and environmentally sustainable town and cities and provide all humans adequate shelter through better understanding of the most up-to-date developments in construction and building technology.
Schools included in the tour were Tufts University, University of Massachusetts/Lowell, Merrimack College, Worcester Polytechnic Institute, Minuteman Career and Technical High School and Nashoba Valley Technical High School.
"Due to the war and the regulations imposed by the last regime, Iraq is suffering from a shortage of equipment and a society with many needs," noted Moneer Hameed Tolephih, one of the five visiting scholars. He added, "Our strategy is to help develop a good relationship and cooperation with schools and universities in the United States."
Hankour expanded, "This initial visit was a great opportunity for both parties to develop a personal connection and determine how we can help each other."
In addition to Moneer Hameed Tolephih, Iraqi guests included FTE President Mahmood Share Al Mulla Khalf; Vice President Asaad Toma Marogi; Dr. Mudhafar Sadeq Hasan Al-Zuhairi, the Dean of the Institute in Baghdad; and Mazin Tahamid Al-Kattan, the Dean of the Technical College in Mosul.
About Geocomp
Geocomp is a global leader in geo-engineering and has developed some of the most technologically advanced products and solutions available today. The company has been at the center of some of the most challenging projects around the world using high strength geotextiles. Geocomp is also one of the leading experts in the U.S. on the development of new applications of geo-synthetic materials and has prior experience in the design of large water barriers and geo-synthetic tubes.
Geocomp is also an expert in Active Risk Management for civil works projects. It uses this approach to develop designs with high reliability.
For more information about Geocomp, please visit www.GeoComp.com, or call (978) 635-0012.