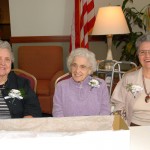 175 guests and staff attended Old Colony Elder Services' (OCES) Annual Luncheon held at the Shaw's Center in Brockton on October 19th. Julie Murphy, President of the OCES Board of Directors, welcomed everyone, introduced the Executive Committee and acknowledged all other Directors.
OCES' Executive Director, Diana DiGiorgi thanked staff for their work during the past year and elaborated upon several accomplishments over the past year which included the Executive Office of Elder Affairs' re-designation of OCES as an Aging Services Access Point and OCES' response submission having been evaluated as one of the best in the Commonwealth.
Sue Joss, Chief Executive Officer of the Brockton Neighborhood Health Center (BNHC), also located in Brockton, was the guest speaker. She talked about the 16 year history of the health center and the extraordinary growth they have experienced. Earlier this month, the BNHC received an $11.3 million federal grant for building expansion.
Service awards were presented to several OCES staff for 10 years (Dorothy Slack and Jacqui Sullivan); 15 years (Dorothy Crane, Isabel Sims, Eleanor Strangis, Michele Wall and Susan Weiner); 25 years (Tim Valentine); and 30 years (Linda Burroughs).
OCES serves elders, their families and caregivers in 23 towns in Southeastern Massachusetts.
About OCES
Incorporated in 1974, Old Colony Elder Services is one of 27 private, non-profit Aging Services Access Points (ASAPs) in the Commonwealth of Massachusetts. OCES offers a number of programs to serve seniors, individuals with disabilities, their families and caregivers such as Family Caregiver; Adult Family Care; Supportive Housing; Nutrition; Money Management; Protective Services; Home Care and more.
OCES offers these programs in the towns of Abington, Avon, Bridgewater, Brockton, Carver, Duxbury, East Bridgewater, Easton, Halifax, Hanover, Hanson, Kingston, Lakeville, Marshfield, Middleboro, Pembroke, Plymouth, Plympton, Rockland, Stoughton, Wareham, West Bridgewater and Whitman.
The organization's mission is to provide services that support the dignity and independence of elders by helping them maximize their quality of life; live safely and in good health; and, prevent unnecessary or premature institutionalization.
In 2009, OCES was honored with the Metro-South Chamber of Commerce's "Economic Impact Award". The agency has 140 employees. For more information call (508) 584-1561 or visit the website at www.oldcolonyelderservices.org