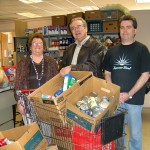 This holiday season, the staff at Old Colony Elder Services (OCES), the Brockton based regional elder services agency serving seniors, their families and caregivers throughout greater Brockton and Plymouth county, has gone above and beyond to help those in need. The agency collected several large boxes of canned food donations from their staff during their Holiday Party held last week.
The canned food drive donations were delivered to The Charity Guild food pantry and thrift shop located on Main Street in Brockton.
For more information about The Charity Guild, visit their website at thecharityguild.org.
About OCES
Incorporated in 1974, Old Colony Elder Services is a private, non-profit corporation designated as one of 27 Aging Services Access Points (ASAPs) in the Commonwealth of Massachusetts. OCES offers a number of programs to serve seniors, individuals with disabilities, their families and caregivers such as Family Caregiver Support; Adult Family Care; Supportive Housing; Nutrition; Money Management; Protective Services and Home Care.
OCES serves elders, their families and caregivers in 23 towns in Southeastern Massachusetts:
Abington, Avon, Bridgewater, Brockton, Carver, Duxbury, East Bridgewater, Easton, Halifax, Hanover, Hanson, Kingston, Lakeville, Marshfield, Middleboro, Pembroke, Plymouth, Plympton, Rockland, Stoughton, Wareham, West Bridgewater and Whitman.
The organization's mission is to provide services that support the dignity and independence of elders by helping them maximize their quality of life; live safely and in good health; and, prevent unnecessary or premature institutionalization.
The agency has 157 employees. For more information call (508) 584-1561 or visit the website at www.oldcolonyelderservices.org