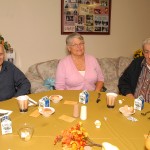 Old Colony Elder Services (OCES) has announced the opening of a new congregate meal site at The Woodlands elderly complex located at 165 Country Road in Plympton.
The new meal site will provide meals to elders who reside within the complex, which is made up of 40 apartments. On Tuesday, Wednesday and Thursday, meals will be served in the congregate. Since OCES does not yet have a Meal Site Manager for Fridays, meals will temporarily be delivered to each apartment.
"This is a start. Our long-term goal for The Woodlands congregate meal site is to be open five days a week and invite all Plympton seniors to participate," noted Diana DiGiorgi, Executive Director of OCES.
The number of seniors throughout the area in need of meals is growing. OCES supports these seniors by providing healthy meals to them through the Nutrition Program's congregate meal sites and Meals on Wheels. OCES serves elders, their families and caregivers in 23 towns in Southeastern Massachusetts.
About OCES
Incorporated in 1974, Old Colony Elder Services is one of 27 private, non-profit Aging Services Access Points (ASAPs) in the Commonwealth of Massachusetts. OCES offers a number of programs to serve seniors, individuals with disabilities, their families and caregivers such as Family Caregiver; Adult Family Care; Supportive Housing; Nutrition; Money Management; Protective Services; Home Care and more.
OCES offers these programs in the towns of Abington, Avon, Bridgewater, Brockton, Carver, Duxbury, East Bridgewater, Easton, Halifax, Hanover, Hanson, Kingston, Lakeville, Marshfield, Middleboro, Pembroke, Plymouth, Plympton, Rockland, Stoughton, Wareham, West Bridgewater and Whitman.
The organization's mission is to provide services that support the dignity and independence of elders by helping them maximize their quality of life; live safely and in good health; and, prevent unnecessary or premature institutionalization.
In 2009, OCES was honored with the Metro-South Chamber of Commerce's "Economic Impact Award". The agency has 140 employees. For more information call (508) 584-1561 or visit the website at www.oldcolonyelderservices.org.