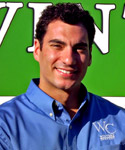 Keith Mercurio, a Belmont resident, has been named Sales Manager at Winters Company Plumbing, Heating & Cooling of Cambridge.
Mercurio has been promoted to Sales Manager after working as an apprentice, technician and licensed plumber at Winter Company for almost seven years. Mercurio was the first in the company to go from "green" apprentice to licensed plumber through Winter's training facility and receive plumbing certification with the state.
In his new position, Mercurio will be responsible for bidding, selling and assigning jobs to Winters' plumbers and technicians. He will also be responsible for training all new technicians. Mercurio was recently selected by Nexstar, the independent residential service contractors association, to become one of their 12 member trainers, which is the highest level a trainer can reach in the country. Mercurio just returned from a four-day Nexstar training session in South Carolina where he trained a group in a number of disciplines.
Mercurio majored in political science and philosophy at St. Michael's College in Vermont. In 2006, when he was a 24-year-old technician at Winters, Mercurio ran as the Republican candidate for Massachusetts State Representative of the 29th Middlesex District.
"Over the years I have received a lot of support from Winters Company that extends beyond the goals of the company. Tim Flynn and the Winters team supported me when I ran for State Rep and when I became involved with Nexstar training. Winters Company is simply one of the best companies to work for," noted Mercurio.
Outside of Winters Company, Mercurio has volunteered at Big Brother in Boston for more than three years. He has also spearheaded a number of volunteer plumbing initiatives to help veterans.
He is a native of Watertown, MA.
About Winters Company Plumbing, Heating & Cooling
Since 1994, Winters Company Plumbing, Heating & Cooling has specialized in providing home services of plumbing, heating, ventilation and air conditioning (HVAC), and kitchen and bath remodeling projects to thousands of homeowners throughout Eastern Massachusetts.
Winters Company is the largest residential plumbing company in the state, with 20 trucks on the road and a full staff of licensed and insured plumbers and technicians. In addition to 24 hour service and lifetime guarantees on many of their services, Winters Company has standardized their services, which ensures that every customer receives the same high quality workmanship delivered in the same professional and courteous manner.
Winter Company's trusted professionals are trained to care for a home 's systems as well as the home and homeowner. All of Winter's technicians undergo drug-testing and background checks, ensuring that only first-rate providers comprise Winter's team.
Winters Company has been honored with a number of awards over the years including the Local Torch Award for Excellence from the Better Business Bureau and Angie's List Super Service Award. Winters Company is headquartered in Cambridge, MA. For more information, call (617) 484-2121 or visit the website at www.wintersplumbing.com.