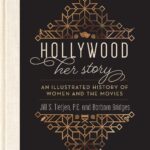 Women have been in the film business since the beginning of its existence. Women were the early filmmakers, owned studios, and developed many of the filmmaking techniques that are still in use today. But, not until Hollywood: Her Story, An Illustrated History of Women and the Movies (Lyons Press), has the extent of their filmmaking contributions – both in front of and behind the camera – been captured so eloquently.
The Academy Awards are around the corner. This year, a record 62 Oscar nominations went to women. Yet, will the nominations turn into wins? What has happened in the past?
Hollywood: Her Story, An Illustrated History of Women and the Movies reveals and celebrates women's little-known roles and previous recognition in the film industry.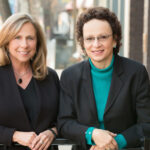 With a foreword by filmmaker, activist and philanthropist Abigail E. Disney, this award-winning, visually-stunning 400-page book illustrates and brings to life the many women who contributed to the Hollywood film industry over the years. Beginning in 1896 with pioneering female director, Alice Guy-Blaché, authors Jill S. Tietjen, P.E. and Barbara Bridges take readers through a photo-treasury of women and film. From movie legends to directors, producers, editors, screenwriters, stuntwomen, composers, cinematographers and others – more than 1,200 women who have added their talent and creativity in the many categories needed to make a movie are featured in this enlightening and entertaining book.
"Hollywood: Her Story's purpose is to honor all the women for their wonderful work in creating the movies that touch our hearts and minds," explained Tietjen. "Although a number of women are known movie names, so many have not received the recognition that they deserve. This book strives to correct that imbalance and shine light on the women who have helped to create the movies that we know and love."
According to Bridges, "When exploring the list of Oscar-winners and nominees and looking at the list of only women who received these recognitions over the years, it shows the categories in which women could excel in Hollywood and where they had to prove themselves the most. For example, only one woman has been nominated for Best Cinematographer, Rachel Morrison for Mudbound, and that was in 2018. However, women were welcomed in the Best Costume Design category where Edith Head won eight Oscars with another 27 nominations, the most Oscar nominations of any woman in Oscar history. By looking at the list of women receiving Oscars and nominations by year, we see that more women continue to be recognized over time."
Praise for Hollywood: Her Story
"It is a great honor to be included in Hollywood: Her Story, alongside so many extraordinary women who have inspired me throughout my life and career." Sherry Lansing, former president of 20th Century Fox, former Chairman and CEO of Paramount Pictures.
Hollywood: Her Story, An Illustrated History of Women and the Movies won two 2019 Best Book Awards in the categories of Best Interior Design Award and Performing Arts. It was also a finalist for Best Cover Design: Non-Fiction and Novelty & Gift Book.
Film buffs of all ages will delight in this beautifully illustrated coffee table style book.
Hollywood: Her Story, An Illustrated History of Women and the Movies is available for purchase online at Amazon, Barnes and Noble, BAM! Books A Million and Indie Bound as well as at independent bookstores.
About the Authors
The authors of Hollywood: Her Story continue to illuminate readers. Tietjen is an author, speaker, and electrical engineer. She is the co-author of Her Story: A Timeline of the Women Who Changed America, which received the Daughters of the American Revolution History Award Medal. Tietjen has conducted research into historical women around the world for the past 30 years and speaks around the country about women's contributions to history.
Bridges has spent much of her life as an entrepreneur and businesswoman. In 2006, she founded Women+Film, a program in partnership with the Denver Film Society, where she has been bringing audiences together with films, by and about women, that ignite discussions around global issues facing women today. With the annual Women+Film Festival, a section of movies in the Denver Film Festival and movie screenings throughout the year, it is a popular film program that not only entertains but educates and inspires as well.
Enjoy a new perspective on the Academy Awards. For more information, visit the website, http://hollywoodherstory.com.