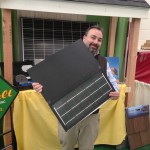 It took 4 billion years for someone to come up with this idea: What if you could literally lease the sun's energy?
Yes, it sounds too good to be true, but a Cape Cod-based company is offering a solar panel leasing program, and the monthly lease cost is less than the energy savings generated by the solar panels.
It sounds impossible, but that's how Russell Cazeault describes a plan that is already helping scores of Massachusetts homeowners dramatically cut their energy costs. Cazeault, who heads the fifth-generation Cazeault Roofing and Cazeault Solar based in Osterville, Mass., has teamed up with GAF Solar and Dow Powerhouse Solar Shingles to make the futuristic dream of home solar power a reality.
Cazeault is one of the Bay State's most experienced solar system distributors, and says the company has put roofs on more homes in Cape Cod than anyone else. Many customers decide to install solar shingles at the same time they're replacing their roof, which can be very cost-effective. Cazeault covers all of eastern Massachusetts and has several showroom locations. (Visit www.cazeaultsolar.com for details).
Facts and figures give dramatic evidence that Massachusetts residents who choose to 'go solar' with solar shingles or panels will cut energy costs, earn energy credits, and work toward a greener planet.
Cazeault says solar (photovoltaic/PV) is catching on. "Two years ago, Massachusetts ranked 12th in home solar installations. This year we've risen to the 5th most installations (reported by the Solar Energy Industries Association)," he says. "Popularity is growing because the word is out: It's not unusual for our clients to save 90% or more on their electricity costs."
Massachusetts is among the top five most 'solar-friendly' states in terms of economic incentives in the form of rebates, tax credits and exemptions, Solar Renewable Energy Credits (SRECs). Surprisingly, available sun power in New England is about 80% of the sunniest parts of the Southwestern U.S., and PV systems still produce energy on cloudy days.
The following illustration makes the case for leasing a rooftop home solar energy system very enticing:
Initial Down Payment $ 0.00
Monthly Payments (300) $78.23
Lifetime Electrical Savings $63,821.00
Total Lease Payments $23,469.00
Lifetime Profit $40,352.00
ROI on Solar System 272%
For the house in this example, the solar shingle or panel system will produce 84% of its electricity needs from the sun and 16% from the utility grid. The homeowner spent $1,600 per year pre-solar, and $263 per year after installing a solar system. The annual profit in the first year is $398.
Going solar should be viewed as an investment rather than an expense, says Cazeault. Instead of paying the electric company , you not only reduce your electricity costs, you also can increase the value of your home. Another option is to pay cash for the system.
Cazeault says that for home or commercial property owners whose roofs need to be replaced, it is cost-effective to install the new roof and solar shingles or panels at the same time to cut labor costs and create a fully integrated system by experienced, licensed and insured installers.
Under a Massachusetts energy credit program, for every 1,000 watts a home produces, the homeowner receives one Solar Renewable Energy Certificate (SREC) and an average homeowner can earn $1,500 in credits annually. Electric suppliers buy these certificates to meet solar renewables portfolio standard (RPS) requirements."It's as good as cash," says Cazeault. However, the SREC's are considered taxable income.
"The numbers speak for themselves," says Cazeault. "Installing solar nowadays really is a no-brainer."
Among added pluses: In the example above, the homeowner's energy savings is equivalent to saving 123 trees per year.
For more details and a free downloadable copy of How to Eliminate Your Electric Bill in 5 Simple Steps with Solar Energy, got to http://cazeaultsolar.com/interesting-facts-about-solar-energy/#more-2823
For more information about Cazeault Solar, contact Russell Cazeault, www.cazeaultsolar.com, 508.428.1133 or visit 1031 Main Street, Osterville, MA. See the website for other showroom locations.