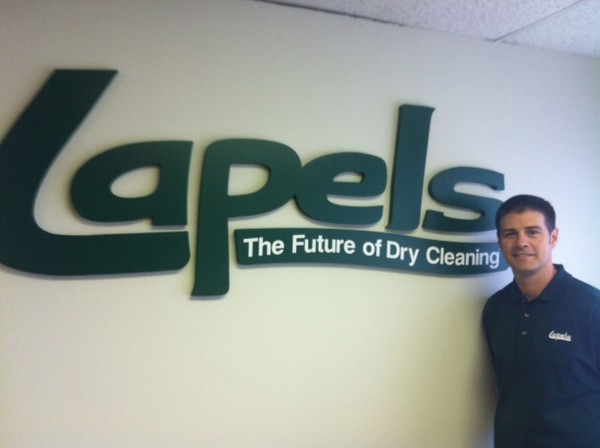 HANOVER, MA…
As far as seasons go, winter probably requires more preparation than any other. In addition to manning your home and automobile with snow removal equipment, it requires different wardrobe, both for what you wear indoors and outdoors. Waiting to get those garments ready before the first winter-like day can literally leave you out in the cold, particularly for items that need dry cleaning or mending.
"For most people, fall can be a blur with kids back in school and the beginning of other activities. For many, the last thing you're thinking about is getting your winter coats and clothes ready," said Kevin Dubois, CEO of Lapels Dry Cleaning, an innovative, environmentally friendly dry cleaning company based in Hanover, Mass. "You should really take a quick inventory of your winter clothes a week or so before Thanksgiving so if things need to go to the dry cleaner or tailor, you will be prepared to look your best for those first few sub-freezing days."
Dubois recommends an immediate inspection of winter coats and jackets. If you have wool coats that were not cleaned before being put away for the summer/fall, check for moth damage.
"One habit people should really get into is cleaning their winter coats before putting them away for the season, particularly leather, suede and shearing garments," said Dubois. "You should also be 'weather proofing' your leather and suede coats prior to wearing them out in the elements. This not only ensures a longer life of your garment but also makes it look its finest."
A cleaning is just one part of getting winter clothing ready for the new season. You also want to have loose buttons, hooks and other closures repaired prior to the inclement weather. There's nothing worse than having a coat that cannot be buttoned up on a freezing cold day. The same holds true for garments with open seams or falling linings. These areas take a lot of wear and should be fixed prior to the first snowflake.
"Winter can be a fun time of year but that level of enjoyment does depend on how well prepared you are for, especially from a clothing perspective," said Dubois. "A few minutes of your time in November will help you stay warm and look great for the holiday season."
Over the past dozen years, Lapels has pioneered its eco-friendly dry cleaning experience. Using the latest technology in equipment and cleaning solution, Lapels is one of the few dry cleaners around to be able to boast that there is no hazardous waste in their process. Lapels  environmentally-friendly cleaning process has no odor and is gentler on clothes, thus lengthening the life of clothes. At Lapels you can see, feel and smell the difference.
Lapels customers are greeted to a warm and inviting reception area, with friendly customer service representatives, and a full service on-site tailor.
Lapels offers its customers Automatic Rewards earning them credit towards free dry cleaning for every dollar they spend, Loyalty Programs, a VIP Program which eliminates the need to wait in line and the use of a 24 Hour Drop Off Service. Same day service is also available with pick-up after 5 pm.
For complete information on Lapels Dry Cleaning, please visit www.mylapels.com.
Lapels Dry Cleaning – Environmentally Friendly Cleaners
Each Lapels Dry Cleaning store offers a full slate of services, including: same-day dry cleaning; shirt service; tailoring; shoe repair; wedding gown preservation; suede and leather processing; box storage and fur storage. Lapels Dry Cleaning has stores in Arizona (Gilbert, Chandler), California (Poway), Colorado (Littleton), Connecticut (Cromwell), Louisiana (Monroe, West Monroe, Delhi, Rayville, Winnsboro), Massachusetts (Abington, Bedford, Boston, Brighton, Cambridge, Cohasset, Dedham, Easton, Framingham, Franklin, Hanover, Marshfield, Natick, Newtonville, Norton, Quincy, Walpole, Westford, Westwood and Wilmington), Missouri (Wildwood), New Jersey (Brick, Freehold and Verona), Ohio (Liberty Township), Oklahoma (Oklahoma City), Pennsylvania (Bloomsburg), Rhode Island (Lincoln); South Carolina (Myrtle Beach, Pawleys Island, Forest Village); Texas (Brownsville). Additional locations are coming soon to Austin, TX, Cedar Park, TX, Needham, MA and Hingham, MA.
Lapels Dry Cleaning has been ranked in Entrepreneur's 26th Annual "Franchise 500" as well as Entrepreneur's "Top 50 New Franchises," identifying Lapels Dry Cleaning as one of today's top franchise opportunities. Entrepreneur's "Franchise 500" is the best and most comprehensive rating of franchises in the world and is based on objective, quantifiable measures of a franchise operation.
Lapels Dry Cleaning corporate offices are located at 962 Washington Street, Hanover, MA 02339.
To learn more about franchise opportunities with Lapels Dry Cleaning, call toll free (866) 695-2735 or email sales@lapelsdrycleaning.com. Additional information and up-to-date company news can also be found on the company's Web site, www.lapelsdrycleaning.com.