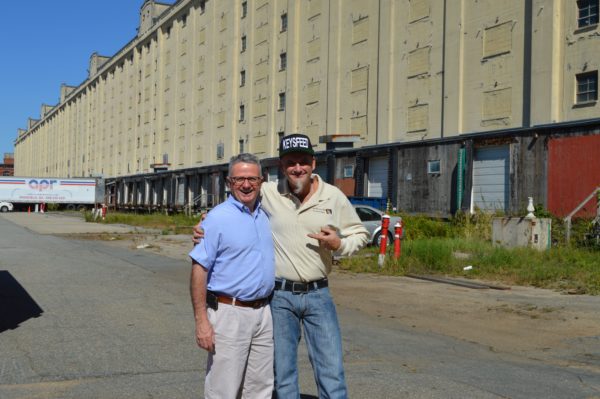 NEW BEDFORD, MA…
Who knew that old and unwanted household keys could produce enough money to help local food banks pay their bills? Similarly, whoever thought that unwanted equipment, overstock and distressed real estate and surplus equipment could also be resold to support local non-profits and generate good corporate citizenship recognition and tax deductions for the company donor?
Two organizations are now working together to harvest surplus capital goods from companies throughout New England that are no longer wanted or needed and can be converted to cash for grants to charities.
Proactive Philanthropy and Key for Hope, two synergistic 503(c) (3), non-profit organizations, are now working together to convert the full spectrum of surplus equipment, from keys to lab equipment and other assets, into cash and reinvesting the proceeds into charitable organizations in the form of grants. This enables the donor companies to enjoy tax benefits and to be recognized for their role in creating the charitable funding.
The two organizations are located in a six-acre, 760,000 square foot warehouse in the North End of New Bedford located at 25 – 51 King Street, New Bedford, MA 02745. The expansive space provides an ample staging ground for transforming surplus keys, stock and equipment into a major financial injection for impactful non-profits.
Ed McPherson, founder and CEO of Proactive Philanthropy noted "Most non-profit organizations are starved for funding. And most non-profit organizations compete day in and day out for the same thing. Cash! What if we turned that paradigm on its head? We know that the money and the funding solution wasn't in cash, it was in the value of every other asset. "
He continued, "For example, a bulldozer is donated, the heavy equipment is sold to a construction company, the proceeds of the sale is used to fund a charitable organization. The donor is recognized for the gift. This is a true example of a win-win transaction. Every company works hard to create net revenue. Those hard earned dollars are needed to propel the company into a leadership position. Using surplus capital assets to create charitable funding is smart business. Keep in mind, that the assets that are no longer in service continue to add costs like storage, insurance, heat, lights and security. When these assets are donated, space is freed up, costs stop and tax deductions are created. Additionally, when the asset is sold and the charitable funds are reinvested in grants, your company receives the acknowledgment (This grant made possible by…). Using surplus assets to give back is the ideal example of doing well by doing good.
Ralph Greenberg, founder and President of Key for Hope commented, "Unwanted, outdated household keys are another overlooked and alternative source for funding needed charities. Schools and companies have found key donation campaigns to be a great way to rally their students and employees to take simple steps to donate and help out. Everyone has a bunch of keys stuffed in a junk drawer or desk that are associated with a previous car, lost bike lock or former apartment. We are encouraging people to donate these keys and will be donating the value of the metal to food pantries."
Working together to create awareness, share warehouse space and combine resources, Key For Hope and Proactive Philanthropy are looking to transform how non-profits are funded.
Proactive Philanthropy background
Ed McPherson earned his stripes in commercial construction and real estate development. Witnessing that a vast majority nonprofits struggled from the absence of long-term, stable funding made a strong impression upon him.
After a nonprofit asked him to find a real estate donation, he realized that a solution could come from not only real estate but from converting the broadest spectrum of surplus assets into charitable funding. McPherson witnessed the non-profit struggle to attract and convert assets into funding. He knew by providing this service it would allow the non-profit to focus on their charitable mission.
Key For Hope background
Ralph Greenberg never took his personal comfort for granted. Simultaneously operating his recycling business and a used scientific equipment business, he discovered the vast quantity of things that can be recycled. After trips to poverty-stricken areas of Siberia and Africa to further expand his understanding of the world we live in, Ralph was devastated by the hunger and poverty and resolved to take action and do something.
Upon his arrival back home, he realized that feeding the hungry was a problem at home too, so he started Key for Hope. Understanding that the few keys his customers gave him were a great start, but not enough to make a difference, Ralph envisioned a key recycling campaign that could be the tipping point that would create a new and additional source of funding for the battle against hunger.
The partnering of Proactive Philanthropy and Key For Hope provide a unique fundraising alternative for companies and charitable causes.
For additional information about Proactive Philanthropy and Keys For Hope, call 508-990-2222 or visit http://www.proactivephilanthropy.org/ and http://www.keyforhope.org/.