When the 40th edition of Seafood Expo North America/Seafood Processing North America had to be rescheduled due to the COVID-19 pandemic, State Representative Patrick Kearney and suppliers quickly stepped up and arranged for the seafood to be donated to families and children in need.
More than 700 pounds of prepackaged restaurant-grade flash frozen Trident Seafood (originally earmarked for the Expo) was donated to the Boys & Girls Club of Marshfield to serve families who would benefit. The seafood included pollock, fillet, shrimp and lobster, which are ingredients many families use in stir fry recipes, stews, and fish tacos. The Boys & Girls Club of Marshfield divided the seafood donation, half of it was distributed to 40 local families and the other half to Quincy Community Action Program's food center for distribution to families in need.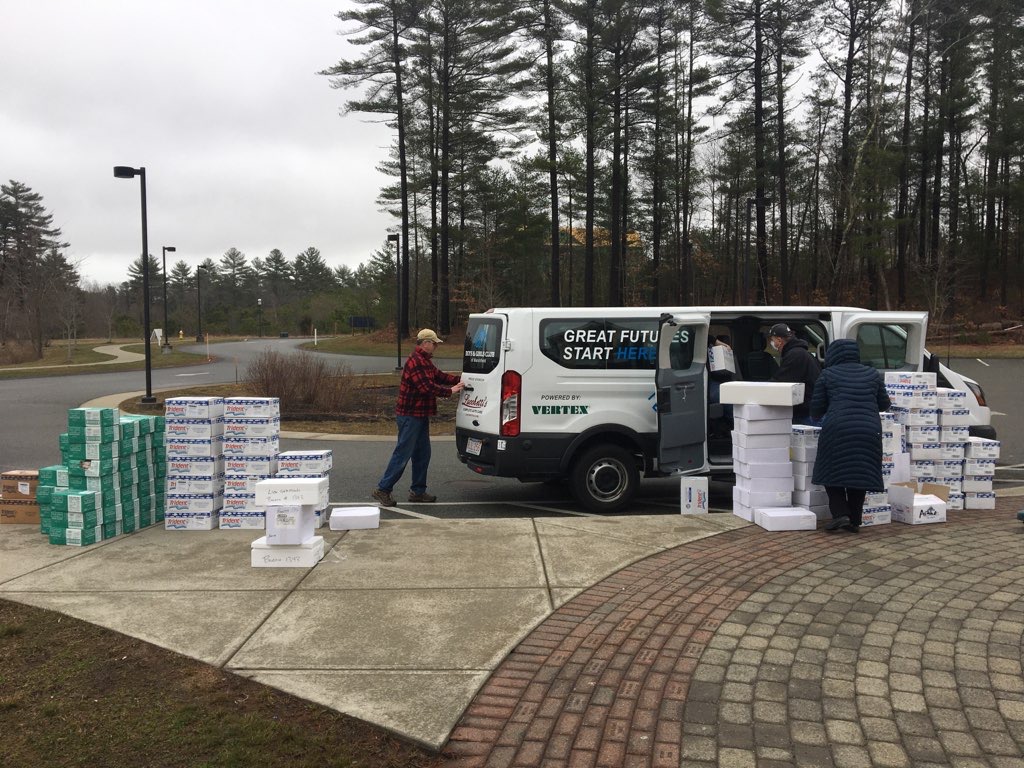 The Boys & Girls Club would like to thank the seafood suppliers, along with Representative Kearney, Jack McGinnis from JD Transport, Charlie DiPesa from F.J. O'Hara & Sons, Inc., Julie Johnson and Steve Meneely from the Marshfield Food Pantry, Chuck Haddad from Haddad's Ocean Café in Marshfield, and Dan Burke, Boys & Girls Club Board member, for their assistance in coordinating the donation.
"The Boys & Girls Club of Marshfield works alongside the Marshfield Food Pantry and Marshfield School Department and has become a food distribution site that serves hundreds of families and children throughout the area," Jim Bunnell, CEO Boys & Girls Club of Marshfield. "Representative Kearney connected with us for assistance in getting this generous donation to families who would benefit. We're extremely grateful to everyone involved who worked with us in this essential mission to support local families. We will do whatever it takes to meet the needs of kids and communities."
Serving the Needs of Children & Families during COVID-19 Pandemic
The Boys & Girls Club of Marshfield is committed more than ever, to ensure that members, families, and communities have the resources and support they need to navigate these uncertain times. Although the Club is closed for onsite programming until further notice, they are still providing services and doing critical work to help youth, families and communities. These services include:
– Distributing meals and essential supplies to kids
– Providing affordable childcare support to first responders, healthcare workers, and essential staff
– Providing tutoring and age appropriate counseling support
– Supplying access to virtual programming
To learn more about the Boys & Girls Club of Marshfield or to access virtual programming, visit https://www.bgcmarshfield.org
About the Boys & Girls Club of Marshfield
The Boys & Girls Club of Marshfield's mission is to enable and inspire all young people to realize their full potential as productive, caring, responsible citizens as well as become tomorrow's capable leaders. The Club provides programming opportunities in the Boys & Girls Club of America's (BGCA) five core areas including leadership, education, health, arts, and fitness.
Currently, the Club serves hundreds of families with children ranging in age from 6 to 18 years old, providing afterschool, vacation week and summer programs, as well as youth athletics, teen, social recreational and leadership opportunities. For more information, visit their website www.bgcmarshfield.org or call 781-834-2582.