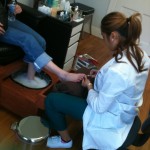 Boston Common Podiatry, led by established Boston podiatrist and board certified foot surgeon Jordana Szpiro, D.P.M., F.A.C.F.A.S., has announced new medical nail services and recently hired new staff.
Boston Common Podiatry now offers three key services/treatments to promote healthy feet and nails: Medical Pedicures and Manicures, KeryFlex Nail Restoration and FDA approved PinPointe Laser Treatments.
New Medical Nail Services
Boston Common Podiatry's new medical nail services include a sterile 6-Step Medical Pedicure to ensure a safe, contagion-free environment for beautiful, healthy feet and the KeryFlex nail restoration system, which is an innovative solution to fungal or dystrophic nails. Boston Common Podiatry also provides the FDA approved PinPointe Laser Treatment which is a pain-free, non-invasive way to eradicate nail fungus.
New Staff
Marie Nguyen, a resident of Malden, has been appointed as Manager of the Medical Spa and will train the medical pedicure/manicure nail staff and oversee all medical pedicures. She is a Licensed Manicurist with more than six years experience. She is also currently employed at Beaucage Salon and Spa in Boston. Ms. Nguyen has CNA and HHA Certification and is currently studying Nursing at Roxbury Community College.
Ingelore I. Gunther, a resident of Revere and Licensed Manicurist, has been appointed as Medical Pedicure/Manicure Nail Technician. Previously, Ms. Gunther was a nail technician at Pyara Salon & Spa in Cambridge. A native of Chile, Ms. Gunther holds a B.S. Engineer of Aquaculture received from DUOC de Valparaiso, Professional Institute in Chile. She has been certified in CPR and First Aid by the American Red Cross.
Kara Tran, a resident of Malden and Licensed Manicurist, has also been appointed as a Medical Pedicure/Manicure Nail Technician. Previously, she was employed at the Boston nail salons, MiniLux and Golden Finger. Ms. Tran is currently a nursing student at Bunker Hill Community College. Additionally, she is a volunteer translator for Vietnamese immigrants that need legal help and that are applying for permanent residency in the US.
Ms. Nguyen, Ms. Gunther and Ms. Tran will be responsible for all aspects of medical pedicures and manicures including sanitizing and sterilizing all implements and providing medical foot evaluations, medically-sound cuticle and nail maintenance, professional callus removal, exfoliating scrub bath, moisturizing foot massage and professional polish with anti-fungal nail polish or Shellac.
"Our practice is growing by leaps and bounds. We've hired expert nail staff and recently expanded our second floor offices at 264 Beacon Street to 2,000 square feet, so we have a new space entirely dedicated to medical nail treatments and medical pedicures," noted Dr. Szpiro.
About Boston Common Podiatry
Boston Common Podiatry specializes in the treatment of foot conditions including pain, fractures and sports-related injuries; complicated foot conditions caused by diabetes, arthritis and cardiovascular disease; pediatric podiatry and molded orthotics. From athletes and dancers to marathon runners and high-heeled fashionistas to seniors and children, the renowned Boston Common Podiatry cares for patients from the greater Boston and Cape Cod areas.
Boston Common Podiatry physicians are on staff at several area hospitals including Mt. Auburn, a Harvard teaching hospital, and hospitals affiliated with the Cambridge Health Alliance. The practice is led by established Boston podiatrist, Jordana Szpiro, D.P.M., F.A.C.F.A.S. Boston Common Podiatry is located at 264 Beacon Street, Second Floor, Boston, MA. For more information contact 617.262.2266 or visit bostoncommonpodiatry.com.
###