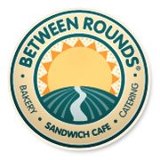 Between Rounds Bakery Sandwich Café, a growing fast-casual dining establishment and wholesale bagel supplier in Connecticut, has recently installed new digital menu boards at their Manchester, South Windsor and Vernon, CT locations.
Between Rounds recently upgraded their traditional menu boards – which were elaborate signs suspended from the ceilings of each of their Cafés – to electronic menu boards. The modernized signage enables Between Rounds to make instant menu changes and incorporate new additions to the menu boards at all of their Cafés at same time.
Previously, if Between Rounds needed to make any sort of change, they would have to have a brand-new menu board designed and printed. Now, the corporate office can make changes remotely across all locations with just a few keystrokes. They are also able to create a custom design on screen in graphics and then post it on the board.
A section of the boards may be dedicated to new product images and the display theme may be changed anytime to reflect holidays, celebrations, special events and more.
"We made a significant investment in this innovative technology that we've installed in our Manchester, South Windsor, and Vernon locations and it has been well-received by our customers," said Between Rounds co-founder Jerry Puiia. "The digital menu boards provide us with incredible flexibility when it comes to announcing new products while also saving a significant amount of time when updates are needed. They are visually appealing and a real game-changer."
Visit Between Rounds' website, https://betweenroundsbagels.com, for store hours, menus and more information.
About Between Rounds Bakery Sandwich Café
Founded in 1990, Between Rounds Bakery Sandwich Café is a unique bakery café and bagel shop renowned for their fresh, baked-onsite bagels and baked goods as well sandwiches, wraps, salads, soups, specialty coffees and a unique line of giftware. Between Rounds offers patrons an upscale, fast-casual dining experience with free Wi-Fi.
Between Rounds is licensed to manufacture prepared foods, and wholesales their breakfast and lunch sandwiches to gas station convenience stores in Hartford County and beyond. The company is also a wholesale bagel supplier to many independent grocers throughout the region. Between Rounds signature bagels are delivered to grocers fully baked so no additional labor is required of the bakery department.
Between Rounds locations include South Windsor, Vernon, Manchester and Tolland, CT. Franchise opportunities are available. Corporate headquarters are located at 19A John Fitch Blvd, Route 5 in South Windsor, CT. For more information about their unique franchise offerings, contact (860) 291-0323 or visit betweenroundsbagels.com.