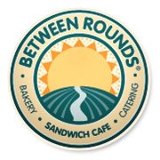 Between Rounds Bakery Sandwich Café, a growing fast casual dining establishment and wholesale bagel supplier, announces new staff members at their Manchester café at 1540A Pleasant Valley Road.
Jana Lee and Azaria Calloway, both Manchester residents, have been hired as counter staff at the Plaza at Buckland Hills location. For four years previous to joining Between Rounds, Lee was a cashier and sales clerk at Once Upon A Child in Manchester. Calloway previously served as an associate trainer for two years at Panera Bread, where she was recognized "Associate of the Quarter". Calloway is currently studying criminal justice at American Intercontinental University and used to volunteer for Literacy Volunteers of Greater Hartford.
Between Rounds co-founder Jerry Puiia already appointed a new baker for the Manchester location and the hiring will continue as he expands the counter staff team.  The café was completely remodeled earlier this year, and now boasts upscale décor and an improved floor plan that facilitates quicker service and enhances the customer's overall experience.
"Jana and Azaria have plenty of sales experience, and are friendly and customer-oriented – which is exactly what we look for in our team members. We're pleased to welcome them to our team," said Puiia.
Those interested in employment opportunities may stop by Between Rounds Manchester location or complete an employment application online at http://betweenroundsbagels.com/careers/.
About Between Rounds Bakery Sandwich Café
Founded in 1990, Between Rounds Bakery Sandwich Café is a unique bakery café and bagel shop renowned for their fresh, baked-on site bagels and baked goods as well sandwiches, wraps, salads, soups, specialty coffees and a unique line of giftware.  Between Rounds offers patrons an upscale, fast-casual dining experience with free Wi-Fi.
Between Rounds is also a wholesale bagel supplier to many independent grocers throughout the region. Between Rounds signature bagels are delivered to grocers fully baked so no additional labor is required of the bakery department.
Between Rounds locations include South Windsor, Vernon, Manchester and Tolland and franchise opportunities are available. Corporate headquarters are located at 19A John Fitch Blvd, Route 5 in South Windsor, CT. For more information about grocer partnership or their unique franchise offerings, contact (860) 291-0323 or visit www.betweenroundsbagels.com.