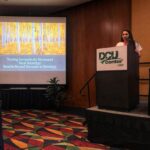 Behavioral Concepts (BCI), a company of behavioral clinicians specializing in the care of children with Autism Spectrum Disorder (ASD) in Massachusetts, sponsored and presented at Berkshire Association for Behavior Analysis and Therapy (BABAT) 2019 Annual Conference & 40th Anniversary Celebration held at the DCU Center in Worcester in October.
BABAT is an affiliated chapter of the Association for Behavior Analysis International (ABAI) and of the Association of Professional Behavior Analysts (APBA). Their conference is the largest professional conference in the Northeast. As the largest provider of insurance-funded Applied Behavior Analysis (ABA) and Early Intervention services in Massachusetts, BCI was proud to be the Presenting Sponsor.
In addition to sponsoring the event, the BCI team presented research titled "Treating Automatically Maintained Vocal Stereotypy: Benefits Beyond Decreases in Stereotypy" as part of a symposium on the assessment and treatment of stereotypical behavior. BCI's Behavior Analyst Sheri Morse contributed to this collaborative research project between the New England Center for Children (NECC) and BCI. Meagan Cannon also contributed to and presented the research on behalf of BCI.
Dr. Candice Colón-Kwedor, Ph.D., BCBA-D, LABA, BCI's Director of Professional Development and Research and BABAT board member, supervised this research and chaired the symposium.
"It is wonderful to work for a company that fosters applied research to ensure that we are contributing to and disseminating best practice methods for the children we serve. BCI is also heavily invested in strengthening the quality of our professional community as evidenced by sponsoring an esteemed professional organization like BABAT," said Dr. Colón-Kwedor.
"As the largest provider of insurance-funded ABA and Early Intervention services in Massachusetts, BCI was pleased to present this important research and support BABAT as the Presenting Sponsor at this esteemed event," said Brian Doyle, Ed. D., BCBA-D, Regional Vice President.
ABA – One of the Fastest Growing Fields
ABA is concentrated in Central Massachusetts and one of the fastest growing fields. To meet the demand for behavioral services for children with ASD and their families throughout Massachusetts, BCI addressed an industry-wide workforce shortage in board-certified clinicians by partnering with Bay Path University to provide an on-site graduate and continuing education program for BCI staff members at the company's Worcester location. BCI has forged similar, successful education opportunities for their workforce through their partnerships with Assumption College and Quinsigamond Community College.
BCI is looking to partner with other colleges in Central and Western MA, to offer their staff additional continuing education opportunities.
About BABAT
BABAT is an affiliated chapter of the Association for Behavior Analysis International and of the Association of Professional Behavior Analysts. Formed in 1979, BABAT is perhaps best known for the annual conferences it has hosted at UMass (Amherst) every year for over 30 years. BABAT also serves as a resource for behavior analysts and those interested in behavior analysis in MA and the larger New England region. To learn more about BABAT, visit https://babat.org.
About BCI
Behavioral Concepts (BCI) provides Applied Behavior Analysis (ABA) services to children with autism and their families in Massachusetts. We identify and facilitate effective personalized instruction that allows children to discover more, learn more, and be more – increasing their independence and enhancing their quality of life at home, in school, and in the community. BCI is a Massachusetts Department of Public Health approved provider of specialty ABA services for early intervention. BCI also provides center, home-based, and afterschool services through private and public health insurance. The organization was founded in 2002 by Dr. Jeffrey R. Robinson. Further information on BCI is available at https://bciaba.com/.

BCI is part of the LEARN Behavioral family of companies, a national organization dedicated to helping all children succeed in school and life. Learn more at https://www.learnbehavioral.com/.