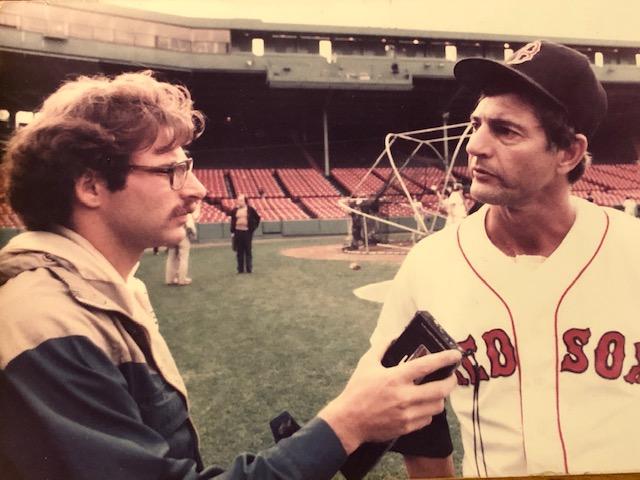 Lack of content. It's one of the main reasons people give for not posting more frequently to their social media channels and website. But is it really lack of content or imagination?
That may sound harsher than intended. The fact is you probably do have sufficient content to post with some frequency. It just takes a little imagination. And perhaps cleaning out your desk of old photos like PR Works Steve Dubin recently did, coming across this great photo:
Now, you're probably wondering what an old picture from Steve during his reporter days does to promote PR Works? Well, it does demonstrate the level of his experience. They actually did let him into Fenway Park and interview Yaz. More importantly, it shows another side of Steve—a much younger one with more hair.
The point here is not to take shots at Steve, though that is quite fun. But when creating content for your business, it doesn't always have to be about your business. Business may not be personal. But people do run businesses and people are who we do business with. So, why not occasionally show your customers—and staff—you are one. A person that is.

High school graduation photos, first car snap shots and other things can often make for an entertaining social media post that engages your audience and gets people to comment. Like Steve's post, which drew 15 comments and 22 thumbs ups. Not bad.
If you would like to create some original content about your business and need some help, drop us a line.