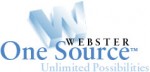 Webster One Source, providers of fine commercial printing and complete mailing/fulfillment services, has recently announced they will provide the full range of commercial sign service at their Hanson and West Boylston locations.
Webster One Source has heavily invested in brand new signage equipment for the production of all types of commercial signs. Webster One Source has established a new Sign Department and will cater to commercial clients seeking all types of signage. The company can take care of all production, from removable custom wall and floor graphics, window signs, tradeshows and banners to POP and vehicle graphics. Webster One Source can print directly on any substrate from vinyl to wood, even glass and utilizes custom router cutting to any shape. They also provide service and installation.
A True Color House
Webster One Source is an independent, "brand insurance" graphics company that assures consistency whether producing printed matter via offset, digital or inkjet technology. Webster can die cut, route and automate the finishing work, which in turn allows them to offer the client more cost-effective pricing than their competitors.
The company plans on developing a sign showroom in each of their locations for customers who need hands-on consultation.
"Using the basketball term, the creation of signs is a 'lay-up' for us. We're already providing comprehensive commercial print services to our clients and it just makes sense for us to meet their signage needs. Webster has become a true color house, which means we match color expertly across all offset, ink jet and digital platforms," explained Ernie Foster, president of Webster One Source.
For more information, contact Webster One Source at 781-447-5484 or visit the website at websteronesource.com.
One Source. Unlimited Possibilities™
Since 1955, Webster One Source has provided fine commercial printing to local, regional and national clients. Led by Ernie Foster, a Worcester native, Webster One Source, was formerly known as Webster Printing and Mailing of Hanson and Webster Fulfillment of Worcester before the two merged in 2008.
Renowned as a "one-stop-shop" and named a "Boston Top 25 Printer" by the Boston Business Journal, Webster One Source's niche is "space on demand" storage along with complete fulfillment "pick/pack" services. Their complete suite of services includes digital and offset printing; next generation online print solutions and e-procurement; commercial sign solutions; storage and fulfillment; distribution and warehousing; full-service bindery; integrated marketing support and complete direct mail solutions.
One of the first green printers in the area, Webster One Source is an FSC Certified printer. Additionally, the company has recently invested $3M in new environmentally friendly presses that use fewer chemicals and less energy.
Webster One Source is located at 1069 West Washington Street in Hanson and 100 Hartwell Street in West Boylston. For more information, contact the Hanson office at 781-447-5484 or West Boylston office at 508-835-6234 or visit www.websteronesource.com.