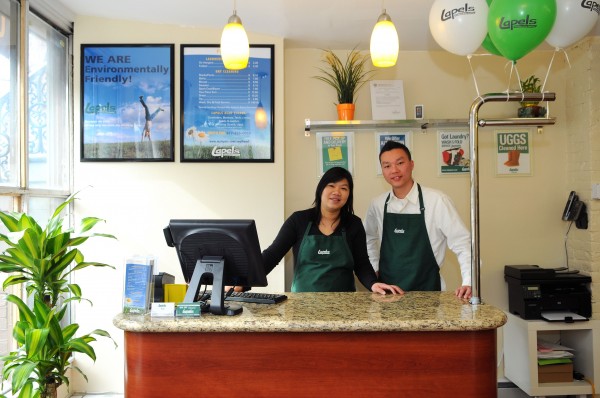 QUINCY, MA and HANOVER, MA…
Lapels Dry Cleaning, an innovative, environmentally friendly dry cleaning company headquartered in Hanover, Massachusetts, will open a new location on April 20 in Quincy at 1213 Hancock Street. The Quincy Center store is the third Lapels Dry Cleaning location to open in Massachusetts Shore in 2013 (Lapels Dry Cleaning opened locations in Cohasset and Cambridge in January).
The new Quincy Lapels Dry Cleaning store is owned and operated by May Situ and Bao Ying Chin. Store hours are Monday through Friday, 7 am to 7 pm; Saturday 8 am to 5 pm; and Sunday, 12 pm to 3 pm. The grand opening for the new Lapels will be held on May 18.
"We are delighted to bring Lapels' standard of high quality dry cleaning and superior customer service to Quincy," said May Situ, a native of China who came to the U.S. 10 years ago. Now a Quincy resident, she and Bao Ying opened their first Lapels Dry Cleaning store last month in Boston's South End at 621 Tremont Street.
"We want to congratulate May and Bao on their second store and we look forward to continuing our support at the corporate level to help ensure the success of both Lapels Dry Cleaning stores," remarked Lapels Dry Cleaning CEO Kevin Dubois.
Lapels has pioneered its eco-friendly dry cleaning experience for the past 10 years.  Using the latest technology in equipment and cleaning solution, Lapels is one of the few dry cleaners in the greater Boston area able to boast that there is no hazardous waste in their process. Their environmentally-friendly cleaning process has no odor and is gentler on clothes, thus lengthening the life of clothes. At Lapels you can see, feel and smell the difference.
Lapels customers are greeted to a warm and inviting reception area, with friendly customer service representatives, and a full service on-site tailor.
"There were so many reasons why we initially chose to buy a Lapels franchise. The environmental piece was certainly up there on our list, but it was an overall commitment to a high quality customer experience that truly sold us," said May. "Customers have been very receptive to what Lapels has to offer at our other locations and we feel Quincy residents will appreciate it as well."
Lapels offers it's customers Automatic Rewards earning them credit towards free dry cleaning for every dollar they spend, Loyalty Programs, a VIP Program which eliminates the need to wait in line and the use of a 24 Hour Drop Off Service. Same day service is also available with pick-up after 5 pm.
For complete information on the Lapels Dry Cleaning, please visit www.mylapels.com. Or, you can call the Quincy store at 617-773-1113.
Lapels Dry Cleaning – Environmentally Friendly Cleaners
Each Lapels Dry Cleaning store offers a full slate of services, including: same-day dry cleaning; shirt service; tailoring; shoe repair; wedding gown preservation; suede and leather processing; box storage and fur storage. Lapels Dry Cleaning has stores in Arizona (Gilbert, Phoenix, Chandler), California (Poway), Colorado (Littleton), Connecticut (Cromwell), Louisiana (Monroe, West Monroe), Massachusetts (Abington, Bedford, Boston, Brighton, Cambridge, Cohasset, Dedham, Easton, Framingham, Hanover, Marshfield, Newtonville, Norton, Walpole, Westford, Westwood and Wilmington), Missouri (Wildwood), New Jersey (Brick, Freehold and Verona), Ohio (Liberty Township), Pennsylvania (Bloomsburg), Rhode Island (Lincoln); South Carolina (Myrtle Beach, Pawleys Island, Forest Village); Texas (Arlington). Additional locations coming soon to Franklin, MA, Oklahoma City, OK, Brownsville, TX and Cedar Park, TX.
Lapels Dry Cleaning has been ranked in Entrepreneur's 26th Annual "Franchise 500" as well as Entrepreneur's "Top 50 New Franchises," identifying Lapels Dry Cleaning as one of today's top franchise opportunities. Entrepreneur's "Franchise 500" is the best and most comprehensive rating of franchises in the world and is based on objective, quantifiable measures of a franchise operation.
Lapels Dry Cleaning corporate offices are located at 962 Washington Street, Hanover, MA 02339.
To learn more about franchise opportunities with Lapels Dry Cleaning, call toll free (866) 695-2735 or email sales@lapelsdrycleaning.com. Additional information and up-to-date company news can also be found on the company's Web site, www.lapelsdrycleaning.com.