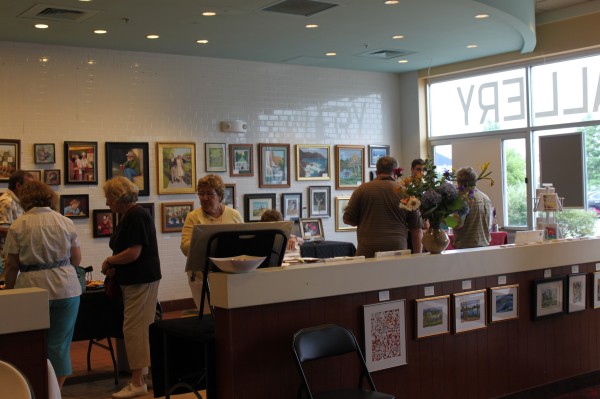 Wareham Crossing recently announced that the popular "Artists' Gallery" will remain open through August 31st. Hours of operation are 11 a.m. to 7 p.m., Wednesday through Sunday. Wareham Crossing is located at 2421 Cranberry Highway, Route 28 in Wareham.
Sponsored by the Bourne Wareham Art Association (BWAA), the Artists' Gallery displays oil, acrylic, watercolor and photography artwork of 15 local artists. Original artwork is on display and notecards, prints, Giclée and lithographs are available for purchase.
A grand opening reception was held in July and was well attended. The public was able to mingle with BWAA's talented artists and enjoy catering and refreshments provided by Cosi and Wines and More.
According to Carole E. Raymond of the BWAA, "We're delighted to have this opportunity at Wareham Crossing. We're very pleased with the level of interest in the gallery and we've even experienced an increase in our membership base."
About Wareham Crossing
Owned and operated by WS Development, Wareham Crossing offers a vibrant blend of retailers and restaurants in an open-air, pedestrian-friendly environment featuring wide sidewalks with benches, detailed landscaping, and a signature lighthouse reproduction. Wareham Crossing is a 675,000 square foot shopping destination that offers more than 35 thoughtfully placed stores and restaurants including JCPenney, LLBean, Loft, DSW, Longhorn Steakhouse, Qdoba Mexican Grill and more.
Wareham Crossing is located at 2421 Cranberry Highway, Route 28 in Wareham. For directions or more information, visit http://www.warehamcrossing.com or contact 781-749-7800.