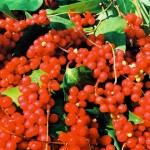 WHATELY, MA…
For tea drinkers, that morning cup is a jump start to their day. People who are slow to rise in the morning might even call it a "lifesaver". Yet for those who are embracing a healthier lifestyle without the caffeine, tea made from schizandra berries, a known adaptogen, might actually be a lifesaver.
An adaptogen, as applied to certain botanicals, brings balance to the body. In short, it helps 'adapt' to what the body needs at the moment. One person may need energy, another stress relief. Schizandra berries, as an adaptogen, help by assisting the body to reach its optimum level of health and well-being—a state referred to by science as 'homeostasis'.
"Schizandra berries support healthy energy, vitality, cell function, calming relaxation, mental clarity, stamina, immunity, detoxification, reproduction and digestion," said Steve, Dubin, a spokesman for Dr. Chang's Naturals, a division of Dr. Tso-cheng Chang's Farm of Whately, Massachusetts, the only commercial grower of schizandra berries in North America. "So while the morning cup of tea may be a figurative lifesaver for some, a morning cup of schizandra berry tea could actually be one."
There are various ways to make an instant cup of schizandra berry tea. A simple recipe calls for:
One quart of boiling hot water
One teaspoon of powdered schizandra berries
Mix with the hot water
Let sit for three to five minutes
Add honey to taste and serve
This recipe can be modified to suit your particular tastes. For example, adding fresh lemon juice and a sweetener can create a zesty hot tea that's quite refreshing.
"While studies on the effects of schizandra berries are ongoing, some Chinese researchers claim schizandra berries can help detoxify the body, remove parasites, increase energy supply to vital organs, help strengthen the immune system, increase physical performance, and prevent side effects of chemotherapy and radiation treatments, as well as possess anti-inflammatory properties," said Dubin.
Dr Chang Naturals grows and wholesales their certified organic schizandra berry powder worldwide. Consumers and retailers can learn more about this powder, and how to buy it, by contacting the distributor Lucidera at www.organicschizandra.com.  For more information about Chang's Naturals, you can visit http://www.organicchiberry.com.