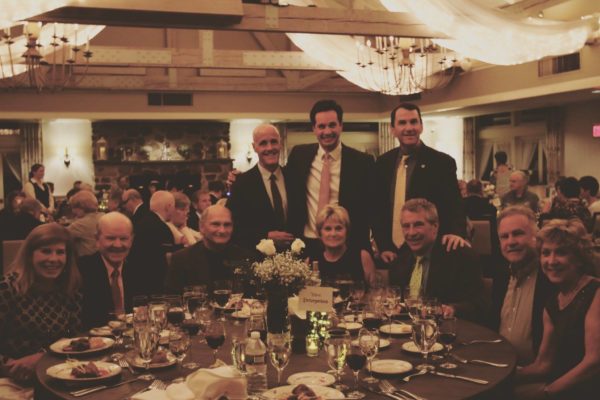 Talking Information Center (TIC) of Marshfield, MA, an award-winning, non-profit reading service broadcasting 24-hours a day to thousands of visually impaired and otherwise print impaired listeners throughout the state, raised over $65,000 at their 25th Annual Wine Dinner fundraiser held November 2, 2017 at the Barker Tavern in Scituate, MA.
TIC had a "full house", with 120 guests in attendance and contributions from more than 60 businesses, institutions and individuals. Guests enjoyed a decadent five-course meal with a main course of Roast Lamb, created specifically for this event by head chef George Jordan. Each course was perfectly paired with wine generously donated by Trinchero Family Estate.
Kerry MacDonald, LICSW, Therapist at Interfaith Social Services, Dr. Nancy Harris, Psychologist, Author and TIC Volunteer, and David Boyle, Purveyor of Wine were the evening's featured speakers. Live and silent auctions rounded out the lively evening.
"We'd like to thank everyone for their generosity and support in raising over $65,000 this year, which is a 48 percent increase over last year's Wine Dinner event," said Jim Bunnell, Executive Director of TIC. "TIC is the communication network for individuals with disabilities, including the blind and visually impaired, as well as seniors and veterans. Funding raised through our Annual Wine Dinner is crucial as we continue to develop and grow our programming to better serve more than 30,000 listeners statewide."
TIC's staff and volunteers provide human voiced broadcasts of local news, articles, and items of interest to their audience as well as broadcasts of live events and conferences to ensure that listeners are informed about local, national, and international news along with services available to them to promote independence and enrich quality of life.
"2017 brought amazing growth in our listenership, volunteers, and collaborations and we look ahead to the future. In 2018, we hope to create a South Shore Low-Vision Group. Hosting these groups at TIC allows for those unable to attend to have access to the information via our live broadcasts. TIC will also work to read every local newspaper and have our programming available on every local community cable channel in Massachusetts," said Bunnell.
TIC would like to thank the following: Flagship Sponsor, the Emilson Family; Jack Conway and Company Inc. and Massachusetts Association for the Blind and Visually Impaired as Benefactor Sponsors; Rockland Trust Charitable Foundation, the Clifford Family, Tiny & Sons Auto Glass, Emerson Swan, VERC Enterprises, and Sheriff Joe McDonald as Table Sponsors; Protectowire FireSystems and Roche Bros. as Friends of TIC; and Bond Printing & Marketing as Printing Sponsor; and George Jordan, Becky Smith and The Barker Tavern for their innovative menus and support.
TIC would also like to thank special guests State Senator Vinny deMacedo and State Representative Jim Cantwell who have worked tirelessly to secure funding for TIC for many years.
All proceeds from the Annual Wine Dinner directly benefit TIC, which serves the listening needs of thousands of visually impaired and otherwise disabled listeners throughout Massachusetts, southern New Hampshire and Connecticut through its network affiliates in Mashpee, Pittsfield, Lowell, Springfield and Worcester.
Bunnell continued, "Thank you to our guests, sponsors, donors, board members and volunteers for a tremendously successful 25th Annual Wine Dinner!"
Reaching New Audiences
More than 120,000 people of all ages in Massachusetts reported to have a visual disability in 2015 according to the National Federation of the Blind. Two out of three aging Americans confront vision loss. Others who experience vision problems are living with AIDS, cerebral palsy, multiple sclerosis, stroke, paralysis and other physical ailments that make it difficult to hold a publication or turn its pages. Approximately 10,000 people turn 65 every day in the U.S. and in Massachusetts, 34 percent of people with disabilities are 65 and older.
The Hub of the Massachusetts Reading Network
Based in Marshfield, MA, TIC is a proud member of the International Association of Audible Information Services (IAAIS), and is the hub of the Massachusetts Reading Network, broadcasting to all of Massachusetts as well as southern New Hampshire and Connecticut. The non-profit reading service operates with the help of more than 600 volunteers statewide, broadcasting newspapers, magazines, books, special consumer information, medical and stock market updates, jobs, sports, supermarket specials, voting guides, community newspapers, and television programs. TIC also offers cultural programming such as old-time radio drama, theater, and poetry. TIC's newest programming includes the Radio and Podcast Players and Veterans Voice.
TIC programming may be accessed several ways: via live audio stream at http://www.ticnetwork.org; by utilizing a specially tuned radio receiver; through AudioNow by calling 712-832-7025 from a home or cell phone; or by smartphone app. Listeners with smartphones may download the free TIC app by typing "Talking Information Center" in Apple or in the Google Play store for Android devices.
In 1977, Ed Perry, the founder of radio station WATD-FM in Marshfield, MA, donated his Subsidiary Carrier Authorization signal for use as the first radio reading service in New England. Operating similarly to other broadcast networks, TIC has affiliates throughout the state of Massachusetts that provide inserts of local news and information that is of interest to listeners in their area. The Executive Office of Elder Affairs oversees TIC, which is located at 130 Enterprise Drive, Marshfield, MA 02050. For more information visit www.ticnetwork.org or call (781) 834-4400.