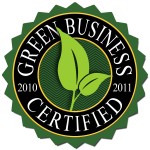 FOR IMMEDIATE RELEASE:
From: Garry H. Peterson, President
Institute for Green Business Certification, Inc.
Institute for Green Business Certification, Inc. (IGBC) is pleased to announce, RODMAN & RODMAN, P.C. CPAs and Business Strategists (www.Rodmancpa.com) of Newton, MA has achieved the designation of "Green Certified Business" from IGBC, demonstrating their outstanding commitment to the environmental health and well-being of the communities they serve.
Rodman & Rodman, P.C. has taken the lead in Recycling,Water Conservation, Energy Conservation, Waste Reduction, and Environmentally Friendly Purchasing as well as the environmental elements of the EPA and
OSHA regulations.
"We realized long ago that our clients wanted and needed more than just a traditional service in an
accounting firm. Our clients continue to look to us as leaders who ask the right questions and develop
sound business strategies," noted Steve Rodman, CPA, MST, president.
For more information about the significance and magnitude of an IGBC certification, please contact Mark
Vitello at Rodman & Rodman by email Mark@rodmancpa.com or telephone (617) 965-5959.
RODMAN & RODMAN, P.C.
Founded in 1961, Rodman & Rodman, P.C. provides accounting, tax and business services to small and
medium-sized companies throughout New England. With a focus on strategic planning, Rodman & Rodman
goes beyond traditional accounting services and takes a proactive approach when serving clients to increase,
preserve and sustain clients' financial net worth.
From business valuations, taxation, audits, fraud detection and prevention services and succession planning
to a variety of accounting IT services including software selection, implementation and training, the team at
Rodman & Rodman serves as comprehensive advisors to clients. For individual clients, the company offers
personal advisory services such as planning for real estate transactions, obtaining financing, estate planning
and retirement planning as well as planning for college education. Rodman & Rodman Certified Public
Accountants are located at 3 Newton Executive Park in Newton and 25 Braintree Hill Office Park in
Braintree, Mass. For more information, visit their website at www.rodmancpa.com or contact (617) 965-5959.
IGBC is the oldest international organization of its kind to certify business practices. For more information
www.gbcertified.com • Phone: 317.436.8674 • Fax: 413.410.1630