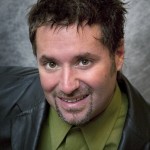 New shoes, new clothes and a must-have new hairstyle for fall. Local salon owner and internationally recognized style and color expert Edward Blum shares the best back-to-school styles straight from the runways of Fall Fashion Week.
Edward Blum, who owns the prestigious Makeovers Salon & Spa of Easton with his wife Norah Blum, served on the Wella team for celebrity designer Donna Karan as they introduced the DKNY Fall 2010 collection during Fashion Week. Below, he shares tips on how to obtain easy, sophisticated runway hairstyles for fall:
Classy Ponytail – This timeless hairstyle should be worn low and softly off to the side to create a simple yet spectacular look this fall. To achieve this look, pull hair from a loose pony and slide it to the side of your choice. Hair length does not particularly matter, although for shorter hair using clip on extensions to achieve the best look is a must. You can also purchase a weft of hair from your local extension retailer to add extra fullness and length to the pony. To get more of a sophisticated look, wrap a small section of your hair around the hair tie.
Waffle Waves – This look is about a thick loose natural wave that is very complementary and feminine. Starting with damp hair add a small amount of styling gel all over. Gather and section your hair into 6 small parts. The front of your hair should be parted in the direction you would typically wear it. Braid each section, keeping it 4 to 5 inches away from the part. The key is keeping the braids very large. Smaller braids will create more of a crimped look. When hair is fully dry, disband and run fingers through entire head.
Organic Stone Inspired Color – To achieve the best possible color, these techniques should be performed by a professional. For blonds and cooler blonds, a multi-dimension balayage method would be ideal this fall. This means that your stylist designs and places multi-colored highlights and low lights to produce a granite or slate stone color effect. Thanks to Eva Scrivo and Wella Hair Color.
Side Braid – This will work with any size or shape of the braid. For more of an impact a very large loose braid works best. Plates woven from one side of the head bandaging the front of the hair is a popular choice. Braids will be everywhere this fall.
Short Haircuts – Very military inspired androgynous short hair pairs beautifully with today's high fashion styles such as the tuxedo inspired look for women and blazers with high shoulder pads. This cut starts with a barber taper neckline, very short sides and the top being one length. Unlike last season, the asymmetrical bold and edgy look is fading quickly. This season, short cropped sides, and long top rounds the look. Hair can be worn slicked back or soft and forward as you like.
According to Edward Blum, "Most of the styles you'll see this fall are very natural and easy to obtain. The emphasis is on chic, without a lot of fuss."
For more information, visit www.makeoverssalon.com.
About Makeovers Salon & Spa
Makeovers Salon & Spa is owned by the internationally recognized, award-winning designers Edward and Norah Blum. As one of the largest salon and spa in Massachusetts, Makeovers Salon & Spa is a 13,200 square foot "paradise" with 26 styling stations, nine large treatment rooms and a staff of more than 80 providing hair styling and coloring; nail and spa services. Their line of high quality products include G.M. Collin and Glymed Spa products, Glominerals Makeup and Wella, Sebastian, Rene Furtier, Alterna and Icon hair care products.
Most recently, Makeovers Salon & Spa was the set for the Disney pilot, "Postcards from Heaven" with medium Maureen Hancock and casting calls with 'The Rock'. Makeovers Salon & Spa has been honored 15 times over the years with First Place Reader's Choice Award in all beauty categories.
Makeovers Salon & Spa is located at 574 Washington Street in Easton, MA. For more information, visit the website at www.makeoverssalon.com or contact (508) 238-1211.