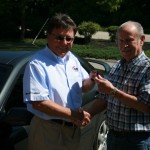 PLYMOUTH, MA…
You might say Beth Menslage was having a bad week. A bad fall had landed the Pine Hills resident in the hospital with a fractured hip. While nothing will take the physical pain of her injury away, her spirits were lifted considerably when her ticket was drawn as the winner of a 2005 Mazda 6, courtesy of the Plymouth Safe Driving Campaign.
The Plymouth Safe Driving Campaign–sponsored by King Collision Centers, Commerce Insurance, Plymouth Public Schools and Plymouth Police Department—has been a yearlong effort to encourage young drivers to practice safe driving habits. Part of that campaign included a donation by Commerce Insurance of a damaged car for the auto repair students at Plymouth South's technical studies program to repair the vehicle for a raffle. That raffle took in nearly $5,000 in proceeds, which will go back to the Plymouth Technical Studies' SkillsUSA program.
"Mrs. Menslage is not the only winner in this drawing," said Gary Maestas, superintendent of Plymouth Public Schools. "The students who repaired the car have received invaluable experience that they can take to the workplace with them. And the money raised by the raffle will benefit students at both Plymouth North and South high schools who want to partake in marketing, nursing, culinary and the many other programs in SkillsUSA."
Students began work on the 2005 Mazda 6 in November 2009. Using recycled parts, the students repaired damage to the front end. In fact, the only new parts installed were the tires, brakes,  seatbelts and airbags, the latter two being requirements in a repair of this nature.
"This project had a phenomenal effect on our students," said Chris Baker, director of Plymouth Public Schools Technical Studies. "Before this, many of them were on the fence about whether or not to pursue a career in auto repair. After working on a project like this, which is a far more sophisticated repair, a few are considering continuing their vocational training at Baran Institute."
Ernie Menslage accepted the Mazda 6 on behalf of his wife. Mrs. Menslage purchased the winning ticket on a recent visit to Plymouth South High School to get her hair cut by the Technical Studies program's cosmetology students. "She's always supported the programs at the school," added Menslage.
"Mrs. Menslage winning the Mazda 6 is the proverbial icing on the cake for the Plymouth Safe Driving Campaign," said Bruce King, owner of King Collision Centers. "It's wonderful that somebody who has been an active supporter of the Technical Studies programs won car."
Continued King, "It's even better that so many students have benefitted from the Plymouth Safe Driving Campaign, from the auto repair students to the two students who won In Control driving classes, from the students who committed to safer driving practices by signing safe driving contracts with their parents to the students who heard Ethan Morgan's story of how your life can change forever in a second with one bad decision. The Plymouth Safe Driving Campaign has been an overall success."
For a complete rundown of the events and activities that comprised the Plymouth Safe Driving Campaign, please visit www.plymouthsafedriving.org.
Anyone Can Remove Dents – King Collision Centers Removes Doubts
Founded in 1984 by Bruce King, King Collision Centers provides superior collision repair and extraordinary customer care to thousands of clients south of Boston. King Collision is dedicated to earning customers for life and their team of professionals help clients through the collision repair process every step of the way – from coordinating a rental vehicle; providing accurate damage appraisal; assisting with the insurance claim process and ensuring that the vehicle is returned to its pre-accident operation, safety and value.
King Collision Centers was voted "Best Collision Repair" by Market Surveys of America and they have been selected to participate in the Repair Shop Referral Programs of 20 different insurance companies.  That includes being part of Commerce Insurance's CARES (Commerce Auto Express Repair Service) Shops, an elite program that includes approximately 120 collision shops across Massachusetts.
  
The company continues to build strategic alliances with auto dealerships, enabling dealerships to offer collision repair services on-site – similar to their alignment with Mastria Auto Group in Raynham.
King Collision Centers are located in Pembroke, Plymouth and most recently, Raynham, MA.
For more information, visit KingCollision.com or contact 508-747-2005