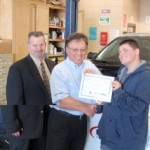 PLYMOUTH, MA…
Plymouth South High School Sophomore Thomas Cipriano and Plymouth North High School Junior Nicholas Tosi were recently selected as the winners of the Plymouth Safe Driving Campaign's In Control drawing. As winners, each will be able to take In Control's Crash Prevention Training course, ordinarily a $350 value, for free.
The drawing to win the In Control class was a bit different than your typical raffle. To enter the drawing, students had to sign an agreement with their parents on a code of conduct while driving and submit it to their school's principal to be eligible.
"I heard about the contract and drawing in my advisory and I wanted to be a part of it," said Cipriano, who is eligible for his permit next month.
Tosi learned about In Control drawing while attending the Social Host Liability Evening, a prerequisite for students to attend Plymouth North's prom. At the suggestion of his mother, Tosi signed the contract and entered the drawing.
"I don't want to do anything stupid out there," said Tosi, who has had his license for three months. "The agreement has been a great reminder to stay focused on driving safer."
In addition to not having to pay for the course, the benefits of the In Control Crash Prevention course are significant. For starters, most insurance companies offer a discount on auto insurance for drivers young and old who have taken the course. More importantly, young drivers who take the In Control crash are more than 70 percent less likely to be in an automobile crash than young drivers who have not.
"Part of why we started the Plymouth Safe Driving campaign was to increase awareness and if it prevented one kid from getting hurt in a crash, it would be worth it," said Bruce King of King Collision Centers, one of the four sponsors of the campaign (Plymouth Police Department, Plymouth Public Schools and Commerce Insurance being the others). "It's nice to know that two young drivers will have the benefit of the In Control crash and hopefully become better drivers because of it."
As part of the Plymouth Safe Driving campaign, students and parents interested in taking the In Control class can receive a 10 percent discount off the cost of the class by registering via the campaign's Web site, www.plymouthsafedriving.org.
Another component of the Plymouth Safe Driving campaign has been the donation of a 2005 Mazda 6 by Commerce Insurance to the Technical Studies program at Plymouth South. Auto repair students have been fixing up the crashed vehicle and a drawing to win the car will take place on May 26. Tickets are $10 a piece and are available at both Plymouth South High School and at Plymouth North High School's school stores. Students under the age of 18 must be licensed drivers in order to purchase a ticket.
In addition, tickets are also available at NAPA Manomet Auto Supply, 21 Robert J. Way in Plymouth, King Collision Centers, 48 Holman Road in Plymouth, and at South Side Cruise Night, to be held every Wednesday night in May at Plymouth South High School (May 5, May 12, May 19 and May 26). The winner will be drawn on May 26 at the South Side Cruise Night at Plymouth South.
Proceeds from the sale of the vehicle will go back into SkillsUSA, the non-profit funding source for the technical studies program at both Plymouth North and Plymouth South High School.
For updates on latest events and activities related to the Plymouth Safe Driving program and additional safety information, please visit www.plymouthsafedriving.org.
Anyone Can Remove Dents – King Collision Centers Removes Doubts
Founded in 1984 by Bruce King, King Collision Centers provides superior collision repair and extraordinary customer care to thousands of clients south of Boston. King Collision is dedicated to earning customers for life and their team of professionals help clients through the collision repair process every step of the way – from coordinating a rental vehicle; providing accurate damage appraisal; assisting with the insurance claim process and ensuring that the vehicle is returned to its pre-accident operation, safety and value.
King Collision Centers was voted "Best Collision Repair" by Market Surveys of America and they have been selected to participate in the Repair Shop Referral Programs of 20 different insurance companies.  That includes being part of Commerce Insurance's CARES (Commerce Auto Express Repair Service) Shops, an elite program that includes approximately 120 collision shops across Massachusetts.
The company continues to build strategic alliances with auto dealerships, enabling dealerships to offer collision repair services on-site – similar to their alignment with Mastria Auto Group in Raynham.
King Collision Centers are located in Pembroke, Plymouth and most recently, Raynham, MA. For more information, visit KingCollision.com or contact 508-747-2005