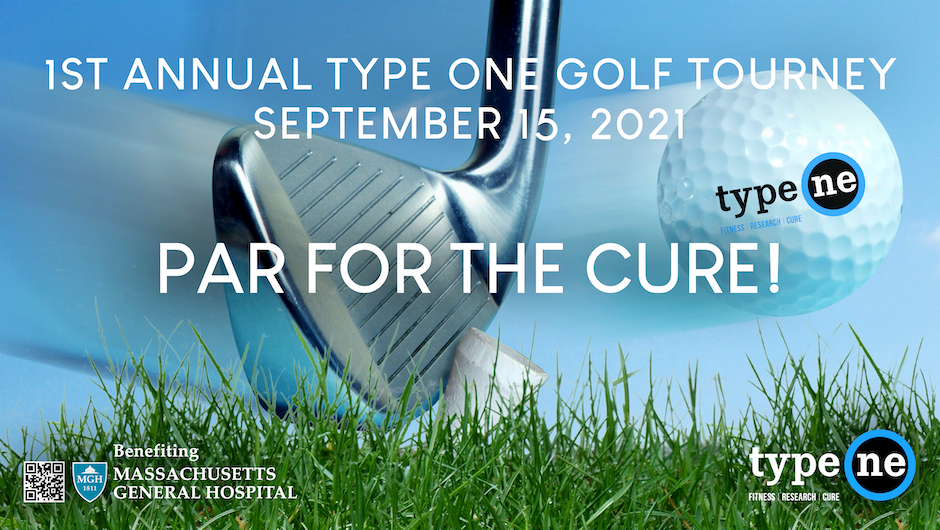 Type One, a 501(c)(3) nonprofit organization based in Hingham, MA, will hold their 1st Annual Par For The Cure Golf Tourney at Crosswinds Golf Club in Plymouth, MA on Wednesday, September 15, 2021. Sponsorships are available.
Registration opens at 11:00 a.m. with a scramble shotgun start at 1:00 p.m., immediately followed by hors d'oeuvres during cocktail reception at 6:00 p.m. There will be activities on the course as well as a live and silent auction and raffles. Foursomes as well as individual golfers are invited to sign up. Early registration is encouraged as space is limited. This event is open to all ages and abilities.
Type One's 1st Annual Golf Tournament supports the Type One Cares charity dedicated to building a community to assist those affected by type 1 diabetes with support, education and endowment, so they can live a powerful life beyond the diagnosis. Type One Cares does this while continuing to fund research at the Faustman Lab at Massachusetts General Hospital (MGH).
Over the past decade, Type One has made an incredible impact toward their mission of funding research to cure type 1 diabetes (T1D) and supporting those in need of help to manage their disease through their Renegade Run Obstacle Course Race.
"Type One recognizes a world free of type 1 diabetes and is dedicated to that future by raising public awareness and funds toward a cure through research," explained Type One's co-founder, Paul Foti. "After 10 years, and much deliberation due to coronavirus, we decided for the health and safety of our greater community, that we would change it up this year and bring people together at this beautiful golf course."
The obstacle course race had traditionally been held at Wompatuck State Park and Bare Cove Park in Hingham, with last year being a virtual race. To date, Type One Renegade Run events have generated over $100,000 in support of research at the Faustman Lab at Massachusetts General Hospital (MGH). The Faustman Lab is focused on discovering and developing new treatments for type 1 diabetes, a vaccine for the reversal of long-term type 1 diabetes and other autoimmune diseases. In addition to supporting the Faustman Lab at MGH, Type One donation and fundraising platforms help provide scholarships to local children with type 1 diabetes to attend type 1 diabetes camp, as well as providing qualifying recipients with assistance for diabetes management and treatment. For more information on the Faustman Lab at MGH and type 1 diabetes, visit www.faustmanlab.org
To become a sponsor or partner of Type One, or to sign up for the 1st Annual Par For The Cure Golf Tourney, visit: https://secure.givelively.org/event/type-one-inc/par-for-the-cure-1st-annual-type-one-golf-tourney
About Crosswinds Golf Club
Crosswinds offers a unique blend of rolling fairways and large gently undulating greens. Challenging yet fun and perfect for golfers of all abilities, this course takes advantage of the natural topography, offering dramatic elevation changes, panoramic views and comfortable spacing between holes for a resort-style atmosphere. For more information, visit https://www.golfcrosswinds.com/
About Type One
Type One, a 501(c)(3) nonprofit organization, recognizes a world free of type 1 diabetes and is dedicated to that future by raising public awareness and funds toward a cure through research. Type One was founded in 2012 by a group of South Shore residents to support their friend Tyson Sunnerberg, who was diagnosed with type 1 diabetes, an autoimmune disease in which a person's pancreas stops producing insulin, when he was 21 years old. On November 25, 2012, the first ever Renegade Run Obstacle Course Race was held raising awareness and funds toward a cure. Type One is headquartered in Hingham, MA. Visit https://typeonerenegaderun.com