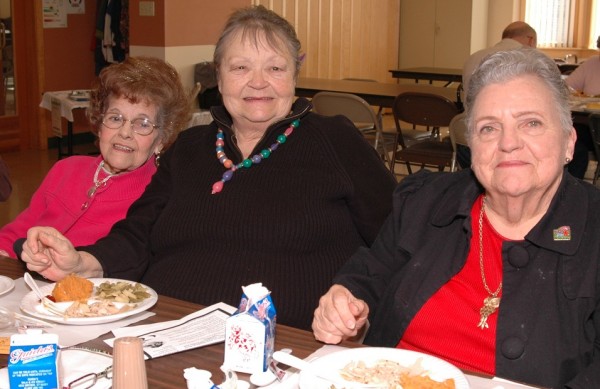 Old Colony Elder Services (OCES) the Brockton based regional elder services agency serving seniors, their families and caregivers throughout greater Brockton and Plymouth county, has recently opened a new congregate meal site at the Brockton Council on Aging, located at 10 Father Kenney Way.
The new meal site, which opened on February 28th, will be open one day a week on Tuesdays to serve a noon time meal. All meals are planned by a Nutritionist and meet one-third of the Recommended Daily Allowance for major nutrients. High sodium foods are not used and there is no salt added in cooking.
Mayor Linda Balzotti attended the meal site's opening day and greeted the 58 seniors who came to dine on a roast turkey dinner. Janice Fitzgerald, Brockton Council on Aging Director, spoke a few words about the program.
Anyone age 60 or older and/or individuals with disabilities can make reservations at a congregate meal site. To attend this congregate meal site contact the Brockton Council on Aging by calling 508-580-7811.
OCES has 4 additional meals sites in Brockton. To sign up for any of these sites or to learn about other congregate meal sites in our service area, contact OCES at 508-584-1561.
About OCES
Incorporated in 1974, Old Colony Elder Services is a private, non-profit corporation designated as one of 27 Aging Services Access Points (ASAPs) in the Commonwealth of Massachusetts. OCES offers a number of programs to serve seniors, individuals with disabilities, their families and caregivers such as Family Caregiver Support; Adult Family Care; Supportive Housing; Nutrition; Money Management; Protective Services and Home Care.
OCES serves elders, individuals with disabilities, their families and caregivers in 23 towns in Southeastern Massachusetts: Abington, Avon, Bridgewater, Brockton, Carver, Duxbury, East Bridgewater, Easton, Halifax, Hanover, Hanson, Kingston, Lakeville, Marshfield, Middleboro, Pembroke, Plymouth, Plympton, Rockland, Stoughton, Wareham, West Bridgewater and Whitman.
The organization's mission is to provide services that support the dignity and independence of elders by helping them maximize their quality of life; live safely and in good health; and, prevent unnecessary or premature institutionalization. For more information call (508) 584-1561 or visit the website at www.oldcolonyelderservices.org.