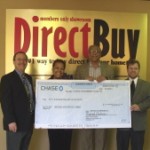 NEW ORLEANS, LOUISIANA…
When Jerome and Grace Lomba arrived home one day in late February and checked their mail, they weren't expecting to see a letter stating they had won $50,000 in the Home Makeover contest they entered while attending an Open House at DirectBuy of New Orleans. They had visited the club simply to satisfy their curiosity about DirectBuy's unique concept, so when they read the letter telling them they had won and later listened to the voicemail left by Mike Seiler, co-owner of DirectBuy of New Orleans, they couldn't believe their eyes or their ears.
"We didn't believe it at first," said Mr. Lomba. "We thought there was some catch to it – it wasn't until we had the check in hand that it really sunk in."
 "This whole event has had a great effect on the staff in the club," said Seiler. The club employees were able to attend the champagne ceremony on March 13, 2010, where the check was handed over to the couple. "It was a very nice ceremony," said Mrs. Lomba. "We really appreciated the club doing all that for us." 
The Lombas' home had been damaged by Katrina in 2005, so they had already rebuilt and refurnished their home by the time they attended the DirectBuy Club Open House. But they still found a way to put their winnings to great use. "We regret that we found out about DirectBuy after we rebuilt our home," said Mr. Lomba. "But even after taxes, we have used the winnings to pay off our mortgage and some lingering credit card bills, and we are holding the rest in reserve to pay for our two sons' student loans."
Over the past few years, DirectBuy has distributed more than a million dollars in prize money to both members and non-members as part of their Home Makeover Program, designed to help consumers create the home of their dreams.
DirectBuy of New Orleans, located at 520 Elmwood Park Boulevard, Suite 190 in Harahan, LA, offers consumers thousands of items including kitchen cabinets, flat-screen televisions, and major appliances from more than 700 manufacturers or their authorized suppliers.
To assist members with their home renovation projects, DirectBuy of New Orleans employs product specialists who are specially trained in one of five areas of merchandise: Home Furnishings, Home Improvement, Flooring, Entertainment/Outdoor, and Accessories. Additionally, members benefit from the use of a children's play area, café, and a members' lounge to relax in while shopping.
About DirectBuy Club
Consumers who are interested in joining DirectBuy are encouraged to attend an exclusive Open House event, which is designed to educate families about DirectBuy's unique business model. The Open House also helps consumers better understand how DirectBuy members avoid traditional retail markup when purchasing brand-name merchandise.
Since 1971, DirectBuy Club has been showing hundreds of thousands of consumers unparalleled ways to save as they shop for virtually everything for in and around their homes – from furnishings, home improvement and flooring, to entertainment and outdoor products, accessories, and much, much more. With more than 150 locations in North America, DirectBuy offers its members access to more than 700 brand-name manufacturers or their authorized suppliers in the US, and more than 500 brand-name manufacturers or their authorized suppliers in Canada.
For more information on a DirectBuy Club membership, visit http://www.directbuycares.com.
Consumers interested in seeing DirectBuy Club's savings, service, and selection up close may obtain a Visitor's Pass to attend an Open House by visiting www.directbuy.com or www.directbuycares.com.