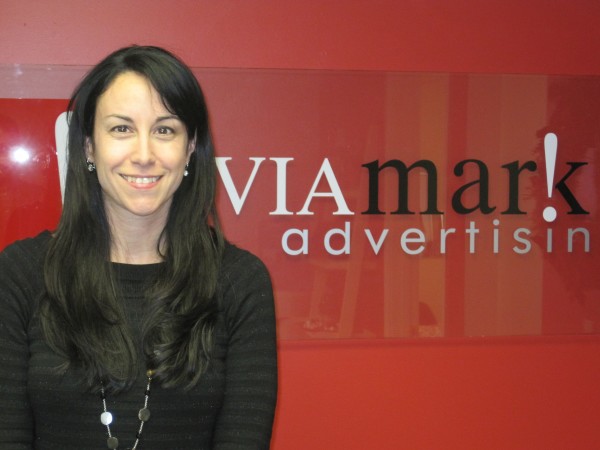 Wilmington, DE – Viamark Advertising announced today that media and advertising pro Katie Loizeaux will head up its newest franchise office in Wilmington, DE.
Loizeaux began her ad career 11 years ago as an account executive for WSPK in Poughkeepsie, NY. After developing a love for the ad business, she followed her then general manager to 99.5 WJBR in Wilmington. In 2007, Katie left WJBR to gain experience in a bigger market as an account executive for Philadelphia's KYW Newsradio for two years before returning to WJBR.
"Katie's unique experience, along with Viamark's  tools and resources, offers a fresh approach to businesses starving for effective, yet cost-attainable campaigns," said Viamark's Director of Franchising and Co-Founder Glenn Anderson. "That's something for which Viamark has developed a well-earned reputation over the years."
Wilmington, DE is Viamark Advertising's 12th office. The agency handles more than 175 accounts from Florida to Massachusetts and specializes in strategic media buying, and creative services, including radio, television, print, outdoor, and digital. Some of Viamark's core industries include automotive, healthcare, pharmaceutical, education, restaurant, retail and real estate.
As a new franchise owner, Loizeaux is excited to get started. "The Viamark training program was excellent. With all the sales tools and systems that were provided to me I'm ready to jump in and start meeting with new potential clients. Plus my insider perspective of the broadcasting industry, unique knowledge of the Wilmington market, and personal relationships with station managers, sales managers and account executives inherently will give my clients more bang for their media buck," says Loizeaux.
"Recruiting outstanding talent and experience is what makes Viamark's model so successful. Katie is a prime example of this, and a valuable asset to any business that partners with her," said Anderson. "We're very excited that Wilmington, DE is now part of our growing roster of east coast markets."
Viamark Advertising franchisee candidates should have five plus years media sales and/or management experience or five plus years ad agency experience in account management and/or business development.  Other helpful attributes and background include local market knowledge and contacts, creative and strategic thinking, composed and capable of managing multiple tasks at once and a positive and outgoing attitude.
For more information, visit viamark.com or viamarkfranchise.com