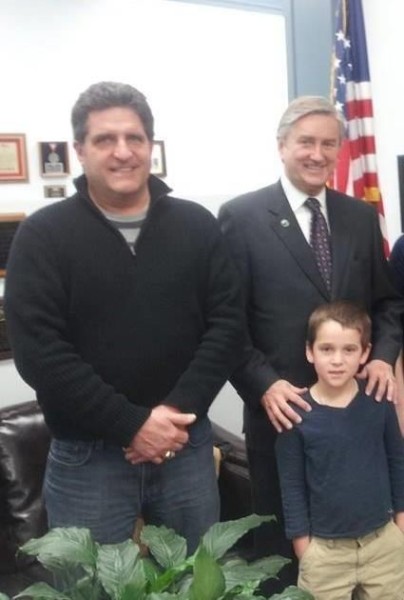 MARBLEHEAD, MA…
Sean Whalen, of Marblehead, was recently named as the chairman of the 2014 JDRF Boston Walk to Cure Diabetes. JDRF is the leading global organization funding type 1 diabetes (T1D) research. Their annual Boston walk, planned for Saturday, September 27 is expected to raise more than $1.3M for T1D research.
Whalen became involved with JDRF three years ago after his then three-year-old son, Jesse, was diagnosed with type 1 diabetes. Seeing the daily challenges Jesse faces, Whalen formed the "Jesse James Gang" team to participate in the JDRF Walk to Cure Diabetes. Over the past three years, the Jesse James Gang has raised more than $20,000.
"The JDRF Boston Walk has meant a lot to my family over the past three years and I'm deeply honored to be named chairman for the 2014 walk," said Whalen, a vice president of business development for South Coast Improvement, Inc., who resides in Marblehead  with his wife Sandra and five sons—Robert, Jack, Sam, Gordie and Jesse.
Adds Whalen, "It's a 24/7 job caring for a child with T1D. It involves monitoring carbohydrates intake, blood checks and constantly keeping an eye on their condition. Jesse is now six and you wouldn't know by looking at him that there's anything wrong. But it's a part of our daily life to monitor him and stay on top of his condition. By working with the JDRF and raising money for research, we hope to one day soon have a cure for this cruel and devastating disease."
As the largest charitable supporter of type 1 diabetes research, JDRF is currently sponsoring $530 million in scientific research in 17 countries. In 2012 alone, JDRF provided more than $110 million to T1D research. More than 80 percent of JDRF's expenditures directly support research and research-related education. In 2012 Forbes magazine named JDRF one of its five All-Star charities, citing the organization's efficiency and effectiveness.
"We're delighted to have someone with Sean's passion as chairman of the JDRF Boston Walk to Cure Diabetes," said Amy Montalto, executive director of the New England Chapter. "This position requires energy and a passion and unparalleled devotion. Sean has those qualities and then some. We are truly fortunate to have him at the helm of this year's walk."
For complete information on JDRF, visit www.jdrf.org. For information on the JDRF Boston Walk, visit www.newengland.jdrf.org.