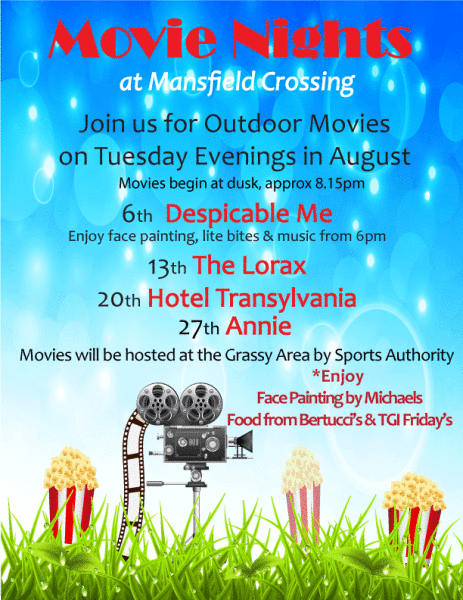 This summer, Mansfield Crossing is inviting their shoppers to enjoy outdoor "Family Movie Nights" every Tuesday night in August. Movie showings will take place at the newly renovated green space by Sports Authority. Movies will begin around 8pm and guests are invited to arrive at 6pm to enjoy a fun night out at the center with entertainment and great deals from many of the stores and restaurants.
The first movie night will take place on August 6th and subsequent movie nights on the 13th, 20th, and 27th. Beginning at 6pm there will be entertainment, face painting by Michaels Arts & Crafts, & food provided by TGI Friday's & Bertucci's. "We are very excited about launching movie nights at Mansfield Crossing. It will be a fun night out for many families in the area. It's also a great way for the community to come together." noted Niamh O'Maille, Field Marketing Manager at WS Development.
Admission to the movies will be free but families are asked to bring a nonperishable food item to donate to Our Daily Bread, a local food pantry. All movie nights are weather permitting and updates on events can be found on Mansfield Crossing Facebook page and website.
For the complete schedule with movie titles, please visit www.mansfieldcrossing.com/events
About Mansfield Crossing
Owned and operated by WS Development, Mansfield Crossing offers a vibrant blend of retailers and restaurants in an open-air, pedestrian-friendly environment featuring wide sidewalks with benches, detailed landscaping, and a walking path around a natural four-acre pond. Mansfield Crossing is home to 40 leading retailers and restaurants including L.L.Bean, Best Buy, Kohl's, Sports Authority, American Eagle Outfitters, Coldwater Creek, LOFT, Chico's, Michaels and Petco.
Mansfield Crossing is located at 280 School Street in Mansfield. For directions or more information, visit www.mansfieldcrossing.com or contact 781-749-7800.