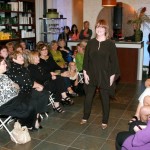 Makeovers Salon & Spa's "Fashion for a Cause" event held last week, which was a fundraiser for Wheels for Avery, was a tremendous success. Over $5,000 (in donations) was raised and will help Avery Austin, a severly disabled Easton boy, get the wheelchair he needs.
It was an evening of fashion and fun for a good cause. Attendees were able to see the latest styles in hair color and design, make-up, clothing and accessories during the Runway Show which featured items from Posh Boutique, Rock Reunion Clothing, Timeless Antiques, B-Buckled, The Loft and Wella.
In addition to the runway models, five local Makeover contest winners debuted their new personal styles on the runway: Emily Candora, a cancer survivor who removed her wig for the first time and revealed her new edgy, purple hairstyle (courtesy of salon co-owner and renowned stylist Edward Blum); Colette Maillett; Brenda Morganti and Ann Taylor.
Guests also enjoyed pre-show boutique shopping, wine tasting courtesy of The Wine Guys, music courtesy of Rakish Productions and food from Makeovers' own Gourmet Café. Sponsors include Rentals Unlimited, William Byer, Rose Hill Garden and Richard Bertone Photography.
For more information about Wheels for Avery, visit http://awalkbyfaithamazedbygrace.blogspot.com/ .
"We're really happy that we were able to all come together and help the Austin family. They're wonderful people who are facing some incredible challenges. We want to thank everyone – our guests, our staff, the vendors and sponsors – for all their support," noted salon owners Edward and Norah Blum.
About Makeovers Salon & Spa
Makeovers Salon & Spa is owned by the internationally recognized, award-winning designers Edward and Norah Blum. As one of the largest salon and spa in Massachusetts, Makeovers Salon & Spa is a 13,200 square foot "paradise" with 26 styling stations, nine large treatment rooms and a staff of more than 80 providing hair styling and coloring; nail and spa services. Makeovers Salon & Spa has been honored 15 times with "First Place Reader's Choice Award" in all beauty categories.
Makeovers Salon & Spa designers travel to New York for training in the latest color and cutting techniques each Spring and the salon frequently hosts renowned international guest trainers. Services offered at the Day Spa include facials, laser treatments, massage, manicures/pedicures, wraps, body treatments, waxing, reflexology and aromatherapy. Their line of high quality products include G.M. Collin and Glymed Spa products, Glominerals Makeup and Wella, Sebastian, Rene Furtier, Alterna and Icon hair care products.
Makeovers Salon & Spa is located at 574 Washington Street in Easton, MA. For more information, visit the website at www.makeoverssalon.com or contact (508) 238-1211.