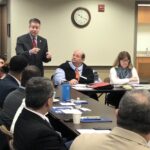 Old Colony Elder Services (OCES), the non-profit agency proudly serving older adults and individuals with disabilities throughout Plymouth County hosted and co-sponsored the Greater Brockton Area Legislative Roundtable at their Brockton office on February 7, 2020.
The legislative roundtable breakfast had 34 in attendance including: Senator Michael Brady in the Second Plymouth and Bristol District; Representative Claire Cronin representing the 11th Plymouth District; Representative Michelle DuBois, 10th Plymouth District; Legislative Aide Matthew Hannon; Legislative Aide Kathleen Baxter; Legislative Aide Joanne Tierney; Representative Kathleen LaNatra, 12th Plymouth District; Representative Mathew Muratore, 1st Plymouth District; Mayor of Brockton, Robert Sullivan; Representative Alyson Sullivan, 7th Plymouth District; Senator Walter Timilty, Norfolk, Bristol and Plymouth District; and Brockton Housing Authority Executive Director Thomas Thibeault.
The event was co-sponsored by OCES, Independence Associates, and Easterseals Massachusetts. The three organizations, which have similar missions, discussed their priorities and goals, with supportive housing for older adults and individuals with disabilities being a central issue. These agencies collectively emphasized the importance of REquipment who also attended this event to talk about the importance of the services and equipment that they offer the community.
"The need for supportive housing for older adults and individuals with disabilities is increasing and will continue to do so over the next 10 years," said Nicole Long, CEO of OCES. "Expanding the funding for supportive housing is imperative. Our funding goal would support at least 10 new supportive housing sites and an estimated 1,500 older adults living in public housing with enhanced coordination and access to long-term services and supports."
Legislators discussed what they see are some of the key issues affecting people with disabilities locally and at the state level. Closing remarks were made by Steven Higgins, Executive Director of Independence Associates Center for Independent Living and Paul Medeiros, President of Easterseals Massachusetts.
About the Presenters
To learn more about Independence Associates, a Center for Independent Living, visit www.iacil.org. For more information about REquipment, durable medical equipment reuse, visit dmereuse.org. For additional information about Easterseals Massachusetts, visit www.easterseals.com/ma.
About OCES
Founded in 1974, OCES proudly serves greater Plymouth County and surrounding communities. OCES is a private, non-profit organization headquartered in Brockton with a second office in Plymouth. OCES is designated as one of 25 Aging Services Access Points (ASAPs) in the Commonwealth of Massachusetts. OCES' mission is to support the independence and dignity of older adults and individuals with disabilities by providing essential information and services that promote healthy and safe living. The agency offers a number of programs to serve older adults, individuals with disabilities, their families and caregivers. For more information call 508-584-1561 or visit www.ocesma.org.