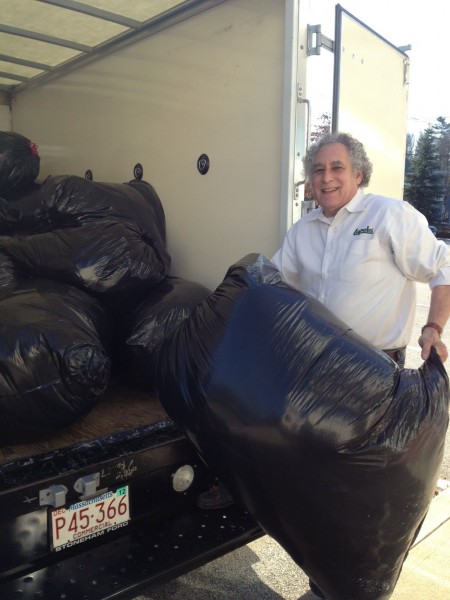 HANOVER, MA…
As a rule in general rule, sand and dry cleaning do not mix. Yet when Fred Siegel, owner of Lapels Dry Cleaning in Hanover, heard from his lifelong friend, a New Jersey resident, about a clothing drive to help victims of Super Storm Sandy on the Jersey Shore, he had to do something. That something turned out to be a clothing drive that generated 45 bags of clothes on a truck headed to a homeless shelter located in Seaside Heights, New Jersey.
"My best friend Artie Pazan lives in Glen Rock, New Jersey. We were on the phone and he was telling me about a clothing drive his temple was having for people in Seaside Heights. I got off the phone and told my daughter Ariel. She suggested doing a clothing drive at Lapels. We put out an e-mail to our customers on Tuesday afternoon and bags started showing up by Tuesday night," said Siegel
And the bags kept coming. By Saturday, the day it came time to drive the clothing down to New Jersey, Lapels Dry Cleaners had donated 45 55-gallon contractor's bags worth of clothes. Siegel, who made the trip down to New Jersey, was floored by the gestures of his customers and the response of the recipients.
"We've held clothing drives before and our customers have always been very generous, but this was far more than I ever could have imagined," said Siegel. "Perhaps the only thing more amazing than our customers' generosity was the response from the shelter. They were overjoyed by the donations and began distributing the clothes almost right away."
Lapels Dry Cleaning efforts for Sandy victims was not limited to clothing drives. Two Lapels Dry Cleaning stores near the affected areas in Brick and Freehold, New Jersey have been cleaning the uniforms of relief effort workers (e.g. fire and police officials) free of charge since the Storm.
"Being Part of the Community is a big part of owning a Lapels Dry Cleaning Store.  We are so proud of how our Owner / Operators rose to the challenge in such a challenging Environment.  In Brick, NJ there was a real need to get the uniforms of those Police & Fire Personnel cleaned, and without power for two weeks this was quite a challeng." said Kevin Dubois, CEO of Lapels Dry Cleaning. "We also commend Fred and his staff for their efforts in putting together this drive. Lapels is a lot like a big family. That may sound cliché, but in situations like where we have store owners reaching out to help out those affected by a disaster like this in the backyard of other store owners, you realize how true it is."
Lapels Dry Cleaning – Environmentally Friendly Cleaners
Each Lapels Dry Cleaning store offers a full slate of services, including: same-day dry cleaning; shirt service; tailoring; shoe repair; wedding gown preservation; suede and leather processing; box storage and fur storage. Lapels Dry Cleaning has stores in Arizona (Gilbert, Phoenix), California (Poway), Colorado (Littleton), Connecticut (Cromwell), Louisiana (Monroe, West Monroe), Massachusetts (Abington, Bedford, Boston, Brighton, Cambridge, Dedham, Easton, Framingham, Hanover, Marshfield, Newtonville, Norton, Walpole, Westford, Westwood and Wilmington), Missouri (Wildwood), New Jersey (Brick, Freehold and Verona), Ohio (Liberty Towns), Pennsylvania (Bloomsburg), Rhode Island (Lincoln); South Carolina (Myrtle Beach, Pawleys Forest); Texas (Arlington). Additional locations coming soon to Chandler, AZ, Boston, MA, Quincy, MA and Brownsville, TX.
Lapels Dry Cleaning has been ranked in Entrepreneur's 26th Annual "Franchise 500" as well as Entrepreneur's "Top 50 New Franchises," identifying Lapels Dry Cleaning as one of today's top franchise opportunities. Entrepreneur's "Franchise 500" is the best and most comprehensive rating of franchises in the world and is based on objective, quantifiable measures of a franchise operation.
Lapels Dry Cleaning corporate offices are located at 962 Washington Street, Hanover, MA 02339.
To learn more about franchise opportunities with Lapels Dry Cleaning, call toll free (866) 695-2735 or email sales@lapelsdrycleaning.com. Additional information and up-to-date company news can also be found on the company's Web site, www.lapelsdrycleaning.com.