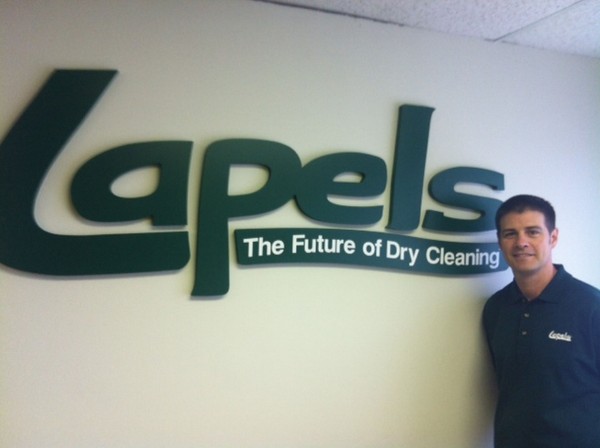 HANOVER, MA…
As an organization, Lapels Dry Cleaning is known for giving back to the community. One way is through its environmentally friendly dry cleaning methods. Clothing drives for various causes–ranging from helping out victims of Superstorm Sandy to standard drives for Big Brother/Big Sister organizations—stands as another. With its new veteran's discount, Lapels is giving back to people who have given the most: our returning soldiers and service men and women.
Lapels is offering a 20 percent discount off their franchise fees to veterans who purchase a Lapels Dry Cleaning franchise. There's no prerequisite for number of years served. Any honorably discharged veteran of any branch of the U.S. Armed Forces is eligible.
"Our veterans have sacrificed quite a bit for our country and we do owe them more than a debt of gratitude," said Kevin Dubois, CEO of Lapels Dry Cleaning. "With the job market making slow strides towards recovery, some veterans might be more inclined to use the skill set they've developed in the military in running their own business. You could not ask for a better franchise opportunity than Lapels."
Lapels Dry Cleaning has also been named a Military Friendly Franchise® by MilitaryFranchising.com.
Lapels has pioneered its eco-friendly dry cleaning experience for the past 10 years.  Using the latest technology in equipment and cleaning solution, Lapels is one of the few dry cleaners in the country able to boast that there is no hazardous waste in their process. Their environmentally-friendly cleaning process has no odor and is gentler on clothes, thus lengthening the life of clothes. At Lapels you can see, feel and smell the difference.
Lapels customers are greeted to a warm and inviting reception area, with friendly customer service representatives, and a full service on-site tailor. Lapels offers its customers Automatic Rewards earning them credit towards free dry cleaning for every dollar they spend, Loyalty Programs, a VIP Program which eliminates the need to wait in line and the use of a 24 Hour Drop Off Service. Same day service is also available with pick-up after 5 pm.
"Our franchise owners come from many walks of life. Some previously owned their own business, some have not. Most had zero experience in the dry cleaning arena. The franchise formula we have in place makes it possible for somebody with the right skill set to buy a franchise and be successful within a relatively short period," said Dubois.
For information on buying a Lapels Dry Cleaning franchise, please call toll free (866) 695-2735 or email sales@lapelsdrycleaning.com
Lapels Dry Cleaning – Environmentally Friendly Cleaners
Each Lapels Dry Cleaning store offers a full slate of services, including: same-day dry cleaning; shirt service; tailoring; shoe repair; wedding gown preservation; suede and leather processing; box storage and fur storage. Lapels Dry Cleaning has stores in Arizona (Gilbert, Phoenix), California (Poway), Colorado (Littleton), Connecticut (Cromwell), Louisiana (Monroe, West Monroe), Massachusetts (Abington, Bedford, Boston, Brighton, Cambridge, Dedham, Easton, Framingham, Hanover, Marshfield, Newtonville, Norton, Walpole, Westford, Westwood and Wilmington), Missouri (Wildwood), New Jersey (Brick, Freehold and Verona), Ohio (Liberty Towns), Pennsylvania (Bloomsburg), Rhode Island (Lincoln); South Carolina (Myrtle Beach, Pawleys Forest), Texas (Arlington),Chandler, AZ, Boston, MA, Quincy, MA and Brownsville, TX.
Lapels Dry Cleaning has been ranked in Entrepreneur's 26th Annual "Franchise 500" as well as Entrepreneur's "Top 50 New Franchises," identifying Lapels Dry Cleaning as one of today's top franchise opportunities. Entrepreneur's "Franchise 500" is the best and most comprehensive rating of franchises in the world and is based on objective, quantifiable measures of a franchise operation.
Lapels Dry Cleaning corporate offices are located at 962 Washington Street, Hanover, MA 02339.
To learn more about franchise opportunities with Lapels Dry Cleaning, call toll free (866) 695-2735 or email sales@lapelsdrycleaning.com. Additional information and up-to-date company news can also be found on the company's Web site, www.lapelsdrycleaning.com.