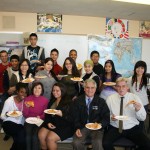 PLYMOUTH, MA…
Taking English in high school is a core requirement for high school students. For some students, that's difficult enough. But imagine if it was your second language? That's part of the reason why Tracy Chevrolet Cadillac recently honored students in Plymouth North High School's English Language Learner program as Driven Students of the Month for November.
Maria daSilva teaches the program at Plymouth North High School, which includes 15 students whose native languages include Spanish, French, Arabic, Chinese, Vietnamese and Portuguese. The English program is an additional course of study on top of a full course load.
"A good portion of the students who started out in this program prior to high school did not speak or understand English at all," said daSilva. "It's a tribute to their character and determination that they not only have picked up the language but how they can then use that knowledge and do well in their classes."
In fact, of the 15 class members, six made the honor roll for the first quarter. Those students are Wilson Parra, Carla Cardozo, Sharlene Vallecillo, Mi Mi Xiong, Ludmilla Magalhaes, and Kim Khuu. Other members of the class include Gustavo Alves, Vinicius Braga, Kamila Cordeiro, Ana Paula Da Silva, Smerling De los Santos, Mohamed Amine Mena, Fatima Mena, Alexandre Rodrigues,  and Leticia Magalhaes.
For being selected Driven Students of the Month, the class received a pizza party, courtesy of Tracy Chevrolet Cadillac. In addition to food and drink, the students also received Tracy Chevrolet drink koozies delivered by Tracy's Service Manager Rick McGue and Business Manager John Fasolino.
"It's absolutely astounding what these students have been able to accomplish—learning a new language—in such a short period. Then, for several of them to make the honor roll on top of that. It's amazing," said Jeff Tracy, president of Tracey Chevrolet Cadillac.
Tracy Chevrolet Cadillac's Driven Student program recognizes Plymouth high school students for their performance and achievements in and out of the classroom. Awarded on a monthly basis, recipients are selected by faculty and advisors at the student's given school.
So easy at Tracy Chevrolet Cadillac
For more than 80 years and three generations of dealers, the Tracy family has made it so easy for customers on the South Shore and greater Plymouth area to purchase new and used automobiles. Since its beginnings in 1992, Tracy Chevrolet Cadillac has emphasized first-rate customer service and straightforward, bottom-line pricing with fair trade-ins every time–without the games or gimmicks you find at other dealerships. For more information on new and used trucks and automobiles, you can go to www.tracymotors.com or stop by the dealership, conveniently located at 137 Samoset Street, just off exit 6 on Route 3. For more information, or to make a service appointment, you can also call (800) 640-2884.