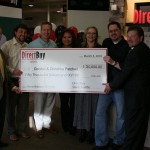 KENT, WASHINGTON…
When Gordon and Christina Patchell walked into DirectBuy of South Seattle on March 5, 2010, they weren't making their typical visit to the Club to shop. They were about to be handed a $50,000 check to makeover their home, thanks to the Home Makeover contest they entered while attending an Open House at DirectBuy.
"We were considering renovating our kitchen and heard some great things about the savings we could get through DirectBuy, so we decided to check it out," said Mr. Patchell. "Now we can design the kitchen we've always wanted without squabbling over materials – suddenly what grade of granite to get won't even be a point of debate."
That kitchen remodel may have been the plan all along, Home Makeover winnings or not, but the Patchells intended to wait a few years before getting started – they knew they would do it "one day" but they were working on building their budget first. Now, with more than adequate funds to get going, they are moving full steam ahead.
"I'm thrilled that this is going to a family that will appreciate the benefits of a DirectBuy membership," said Steve Pallagi, co-owner of DirectBuy of South Seattle. "I know what this will mean for Gordon and Christina and I'm really excited for them."
"We were shocked and delighted when we found out we were the grand prize winners," said Mrs. Patchell. "We both read the letter several times before the news sunk in – we never win anything big, so it was completely unexpected and astounding." Pallagi was shocked when he found out as well, "This is the first time a DirectBuy Club in Washington has had a Home Makeover winner."
The Patchells are excited to get started on their big kitchen project, but beyond that, they plan to use the rest of their winnings to redo some other areas of their home. "We are looking forward to making use of our membership," said Mr. Patchell. "DirectBuy really came through for us."
Over the past few years, DirectBuy has distributed more than a million dollars in prize money to both members and non-members as part of their Home Makeover Program, designed to help consumers create the home of their dreams.
DirectBuy of South Seattle, located at 7661 South 180th Street in Kent, WA, offers consumers thousands of items including kitchen cabinets, flat-screen televisions, and major appliances from more than 700 manufacturers or their authorized suppliers.
To assist members with their home renovation projects, DirectBuy of South Seattle employs designers as well as product specialists who are specially trained in one of five areas of merchandise: Home Furnishings, Home Improvement, Flooring, Entertainment/Outdoor, and Accessories. Additionally, members benefit from the use of a children's play area, café, and a members' lounge to relax in while shopping.
About DirectBuy Club
Consumers who are interested in joining DirectBuy are encouraged to attend an exclusive Open House event, which is designed to educate families about DirectBuy's unique business model. The Open House also helps consumers better understand how DirectBuy members avoid traditional retail markup when purchasing brand-name merchandise.
Since 1971, DirectBuy Club has been showing hundreds of thousands of consumers unparalleled ways to save as they shop for virtually everything for in and around their homes – from furnishings, home improvement and flooring, to entertainment and outdoor products, accessories, and much, much more. With more than 150 locations in North America, DirectBuy offers its members access to more than 700 brand-name manufacturers or their authorized suppliers in the US, and more than 500 brand-name manufacturers or their authorized suppliers in Canada.
For more information on a DirectBuy Club membership, visit http://www.directbuycares.com.
Consumers interested in seeing DirectBuy Club's savings, service, and selection up close may obtain a Visitor's Pass to attend an Open House by visiting www.directbuy.com or www.directbuycares.com.